Aluminum Balusters in Canada
NW Aluminum has a wide range of black aluminum balusters to choose from. There are more than 10 different balusters in our catalog. However, we can also custom-built a design that's unique to you alone.
We have been in the business for a long time now. In fact, we consider ourselves a pioneer in baluster styling.
Regardless of the design of your deck or porch, our balusters will fit perfectly with the wooden or aluminum materials. These are also powder-coated to protect them from the elements, especially the extreme weather conditions.
Wide Array of Designs
You can select over 40 various options in terms of size, finish and color (and countless other permutations if you mix and match) that will allow your outdoor space to pop out, and be the envy of neighbors.
The advantage of hiring a professional is you avoid violating any of the provisions of the Ontario Building Code. For instance, do you know that the balusters should be spaced no more than four inches apart? These are the kind of details that will escape amateur technicians.
But you won't encounter a similar problem if you hire us. The building code is our bible, after all.
Where we really shine, however, is customizing designs for our customers. There's nothing like installing balusters that are distinctive from the rest of the neighborhood.
Our edge is in our team. We have the most experienced and skilled technical experts in the field. We also make sure to provide them with enough support in terms of further training, tools, and equipment to optimize their talents.
Why Install Black Aluminum Balusters?
Compared to metal or steel, aluminum requires zero maintenance because it doesn't rust even if exposed to the elements. They also update the look of any house to a more contemporary feel.
A metal will quickly age a property, especially if the surface has already lost its luster, features cracked paint and a lot of rust. People might also assume that the inside of the house is not very well-maintained.
Regardless of the design of your house or business, our team of experts will enhance its best features with our aluminum balusters that stand out because of their color finishes.
Our balusters can be a good conversation starter because of their sleek aluminum construction and the elegant design.
We only choose the best materials for any of the projects we undertake. Believe us when we say that we have as much stake as you have in making your outdoor space a showpiece. This is where NW Aluminum showcases what it can do.
Hire North West Aluminum for Your Aluminum Railing Balusters Needs
North West also specializes in fabricating black aluminum square balusters at very affordable prices. You don't believe us? Call our number at 647-952-5023 right now and talk to our customer representatives. We can give you a free estimate if you contact us today.  You can also ask your questions and relay your concerns. You will be referred to a technical person who will answer your queries professionally and proficiently.
AQUAMASTER, Mississauga
April 2018
"Definitely a 10 star! very professional service and what is the most important for me, project was completed exactly as originally discussed.
I really appreciate the time the installation crew took to finish this project, the best way possible. It came out really nice, puts a smile on my face every time I look at it. That's what I call a job well done!!!"
Are You Ready To Start?
Request a free estimate from our experts!
About Product
No Rust
Aluminum will not rust like Iron
Corrosion resistant qualities
Aluminum has a much longer life span than other materials
Aircraft-grade, aluminum alloys that receive either an anodized or powder coated finish.
Maintenance
Free
Powder coated provides a superior long-lasting finish that will not have to be repainted
Aluminum railings will not splinter or rot like wood railings. Virtually maintenance free
Can be wiped clean of dirt and stains without the need for bleach, solvents, varnishes
Requiring less maintenance and reducing replacement costs in the future.
Great Price
Reasonably priced products
Financially
Technically
Environmentally sound.
Safety
Safety for your home and visitors
Provide a high level of safety while providing a unique
signature to the project's exterior.

Ads to
the Value
Clean, elegant, and structurally robust
By working closely with your design team, we can provide your project with a world-class, balcony railing system that won't hurt your budget.
Provide an innovative and distinct visual signature to buildings. Envy of your neighbors
Seamless
Integration
Integrate into construction projects seamlessly
An extremely clean installation that is free of exposed
base plates and unsightly concrete anchors
We can integrate matching, framed glass gates into the design.
Recycling
Aluminum and stainless steel are among the most recycled materials within the building industry. Aluminum and stainless steel is 100% recyclable with no loss in quality.
Our systems are prefabricated to the greatest extent possible, minimizing onsite waste and improving the overall environmental performance of our product
Gate Lock
Great for pools
1″ x 1″ Used as Intermediate Post
Product Gallery
Are You Ready To Start?
Request a free estimate from our experts!
Ideas For You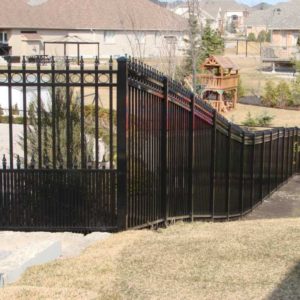 March 21, 2019
If you are living on a hillside or near the slopes, you may need to consider black aluminum decorative fencing installation. They can easily overcome the natural obstacles that come along the way like hills, slopes, and dips.
Service Area