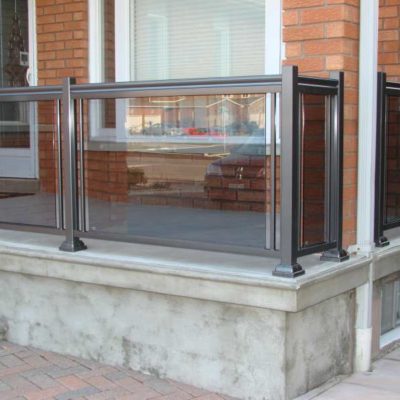 A porch is a great space for you to relax and spend time on while enjoying the outdoor view. The problem is, you will also be vulnerable from outdoor elements such as insects, strong winds, the hot sun, and cold weather. Using a wooden, aluminum, or glass porch railing aren't enough protection. Surrounding your porch with enclosures will help protect you against outdoor elements and extend the use of this space.  
How to Decide What Type of Porch Enclosure is Right for Your Home
Each type of enclosure has its advantages and purpose. To determine which enclosure you should use for your porch, you need to understand the advantages, purpose, and differences of each enclosure. Then ask yourself these questions:
Do you want to open it all year round or just during the summer?

Do you want to enjoy your surrounding land or also the blue sky and stars?

What is the climate like in your area?

What does your roof-line look like in your home?

Is there an existing foundation? Do you require a foundation?

Are there limitations that must be considered? Is there wooden, aluminum, or

glass porch railings

, columns, or other structures that are blocking the way?
If you are unsure of the right enclosure for your porch, you might ask for an expert's help to guide you in choosing one.
Can I Use My Glass Porch All Year Round?
The use of your glass porch depends on your geographical location as well as the type of enclosure you have. If you live on an area which experiences winter then you might not be able to use it if you have a screen room or three season porch enclosure.
Having a four season room enclosure or solarium, on the other hand, is designed for all seasons, even winter. It is designed to be climate-controlled and insulated. Therefore it can be cooled or heated all year round, no matter the weather outside.
Building Your Glass Porch for a Year-Round Use
If you want to build a glass porch that you can use year-round, then you might want to consider the following factors:
Solar Heat Gain – Again, the location where your glass porch is facing determines the amount of light that can enter and warm the room throughout different times of the day. But the type of glass or window panel that you use for your porch can also determine the solar heat that enters the room.
Sunlight consists of the combination of visible light, harmful UV rays, as well as the infrared radiation which we feel as heat. A type of glass known as low emissivity glass or LowE with invisible silver-based coating can reflect both UV and infrared light while letting visible light pass through. If you want more radiant heat or solar heat gain to pass through your window, you would need a glass with less of these silver-based coatings.
Insulated Glass and Structure – Insulating the room is important to help keep its desired temperature all year round. The standard material used to insulate a glass porch is a

dual-pane glass

and aluminum. Aluminum, however, is being replaced by a much better insulator – vinyl.

Heating, Ventilation, and Air Conditioning (HVAC) – Most homeowners want an open sunroom with no walls separating it from the house. With thin structural posts, the temperature inside the sunroom may be a bit closer to the temperature. If that is the case, you need to consider whether your existing HVAC can support and handle this additional space.
How to Heat Your Glass Porch During the Winter Months
For porch enclosure that isn't designed for winter, using a heater or electric fireplace can help warm the room when it is used. Thermal-insulated draperies can also be hanged over the windows to provide an additional barrier between the outdoors and the cold glass panes. Adding a carpet pad or a thick rug can also help keep the warmth in the room and protect the feet from cold floors.  
Can You Build a Glass Porch to an Existing Deck?
The answer is yes, you can build a glass porch on your existing deck. As a matter of fact, a foundation such as a deck – whether it's an existing or new one – is actually needed for a glass porch or any enclosure.
Having a glass porch on a deck gives you both outdoor spaces that let you enjoy the complete ambiance outside as well as an area to protect you when the weather isn't well.
How to Install a Glass Porch
Installing a glass porch will require the work of a contractor as well as the collaboration and assistance of some professionals including electricians and plumber. The property owner should determine his choices based on the options presented by the contractor.
What are the Minimum Foundations Required for a Porch?
It is always prudent to start things right, so the foundation for a porch should have the utmost consideration to prevent any problem in the future.  Over-provisioning may even be a better choice as the additional cost for a really good foundation is often slim. A strong foundation ensures the structural soundness of the porch and provides for future contingencies.  The rule of thumb for the depth of the trench is to dig through the existing hardstanding, the topsoil, and the vegetable materials to reach the load-bearing layer. A depth from 650 to 1000 mm is usual. The width of the trench is usually 200 mm wider than the wall.
What Roof Designs Can I have on My Porch?
The primary consideration in selecting a roof design for a porch is whether it will complement the existing structure to which it will be added.  The owner may choose from flat, single hipped, double hipped to ridge, double hipped to wall, pitched, and gable end pitched. The owner should be able to visualize each choice to make an educated selection.
What Windows Can I Have in My Porch?
Windows are composed of frames and panes.  Materials for the frames may be wood, aluminum, uPVC, and iron.  The owner will be able to choose from various finishes, colors, and color combinations for the framing.  Likewise, there are also different designs and configurations for opening the windows. As for the panes, clear glass is the traditional choice, but there are numerous selections of decorative designs and effects available.  Lead glass and obscure glass add a legion of additional choices to select from, with varying degrees of lead effects and darkness. The owner has an additional choice with screen windows that let in air while preventing entry of dust and pollen inside the porch.
What Walls Can I Have in My Porch?
Porch walls may be of wood, bricks, or stucco on concrete.  The owner will have options on colors and finishes. There is a current trend in the popularity of building the walls with framed window glass or screens.
What Doors Can I have in My Porch?
The door design is normally matched with the windows.  Available materials are aluminum, uPVC, GRP (glass reinforced polyester), wood, and steel.
ZEDD in Etobicoke
Dec 2018
"We are extremely pleased with the Aluminum/Glass railing we purchased. Sales staff were very helpful and knowledgeable about the products and the installation was quick clean and very professional. Get job. Highly recommended."
Are You Ready To Start?
Request a free estimate from our experts!
About Product
No Rust
Aluminum will not rust like Iron
Corrosion resistant qualities
Aluminum has a much longer life span than other materials
Aircraft-grade, aluminum alloys that receive either an anodized or powder coated finish.
Maintenance
Free
Powder coated provides a superior long-lasting finish that will not have to be repainted
Aluminum railings will not splinter or rot like wood railings. Virtually maintenance free
Can be wiped clean of dirt and stains without the need for bleach, solvents, varnishes
Requiring less maintenance and reducing replacement costs in the future.
Great Price
Reasonably priced products
Financially
Technically
Environmentally sound.
Safety
Safety for your home and visitors
Provide a high level of safety while providing a unique
signature to the project's exterior.

Ads to
the Value
Clean, elegant, and structurally robust
By working closely with your design team, we can provide your project with a world-class, balcony railing system that won't hurt your budget.
Provide an innovative and distinct visual signature to buildings. Envy of your neighbors
Seamless
Integration
Integrate into construction projects seamlessly
An extremely clean installation that is free of exposed
base plates and unsightly concrete anchors
We can integrate matching, framed glass gates into the design.
Recycling
Aluminum and stainless steel are among the most recycled materials within the building industry. Aluminum and stainless steel is 100% recyclable with no loss in quality.
Our systems are prefabricated to the greatest extent possible, minimizing onsite waste and improving the overall environmental performance of our product
Gate Lock
Great for pools
1″ x 1″ Used as Intermediate Post
Product Gallery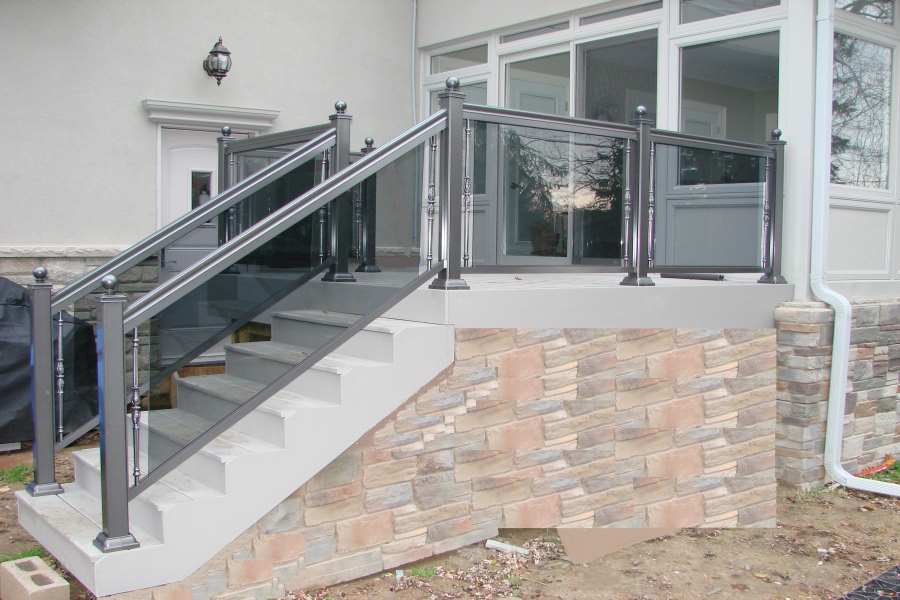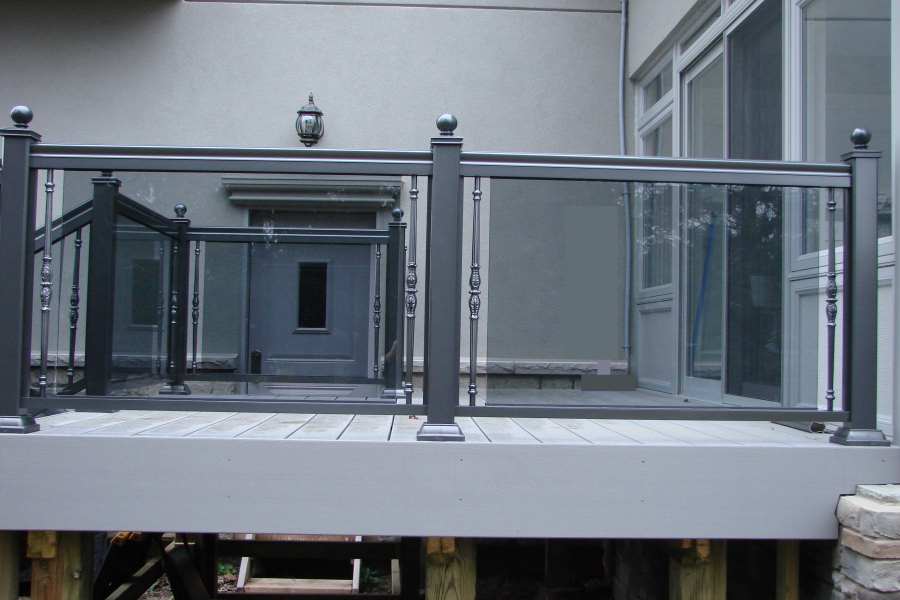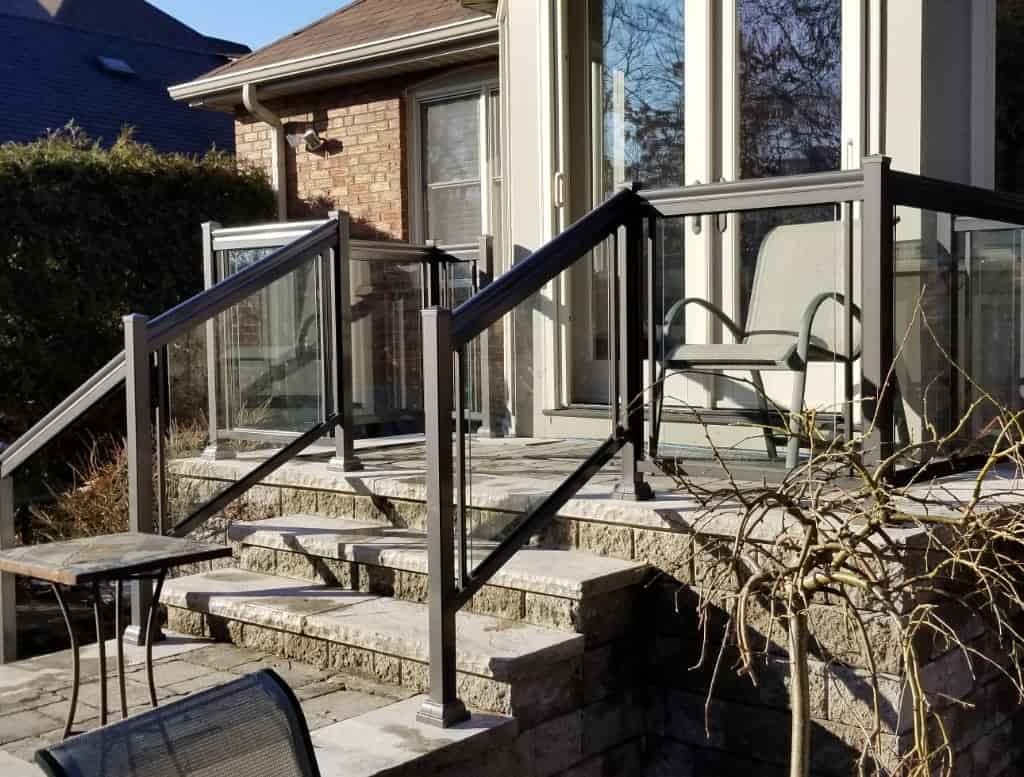 Are You Ready To Start?
Request a free estimate from our experts!
Ideas For You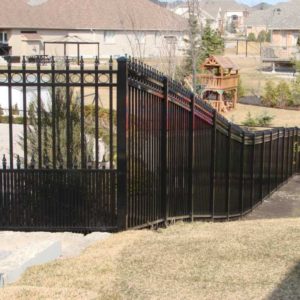 March 21, 2019
If you are living on a hillside or near the slopes, you may need to consider black aluminum decorative fencing installation. They can easily overcome the natural obstacles that come along the way like hills, slopes, and dips.
Service Area