Trust the Rust-Free Aluminum Fencing Supplies
Different materials are available for fencing, although aluminum outperforms them all. Fences made from other materials rust or rot early, leaving your property aesthetically unappealing and unsafe. Aluminum fencing suppliesare the ideal solution because of its durability and low maintenance cost.
Safety First
Safety is always the first and foremost concern. It includes safety of people and your property. A well-manufactured aluminum fence provides reliable safety to your property. It restricts intruders from entering the property while keeping your children and pets safe.
Strong and Sturdy
The aluminum fence provides you the necessary security. Residential and commercial property fences are usually made of a thick layer of aluminum. It makes them strong enough to withstand rough weather conditions. Aluminum fencing manufacturers also design them to bear the daily wear and tear and any damage caused by accidents (if a car gets crashed into the fence).
Curb Appeal
A fence can add up significant resale value to your property. Besides, a property with an appealing aluminum fence can give it a welcoming look. You can add up the logo, name, initials or a welcoming note on the aluminum fence at entryways of your property.
Best Value for Your Investment
A vital reason to opt for an aluminum fence is the quality and reliability it provides. With aluminum fences, there is almost negligible maintenance cost. You do not have to worry about painting it. Powder coating on the panels of aluminum fence keeps it intact – unless exposed to some scratch or damage.
By considering these reasons, it is quite clear aluminum fencing is the best option for your premises.
Why Consider Us for Aluminum Fence Installation?
We get in touch with the best Aluminum fencing suppliers in Canada to ensure high-quality fencing installation in your premises.
Aluminum fencing is our flagship offer — the ultimate safety barrier and the right product for high-traffic areas.  NW Aluminum can install the ideal fence for your property. There's no need to fret because we take our work sincerely and professionally.  Sit back and rely on our staff to give your property the protection it deserves.
We provide reliable and quality aluminum fence installation at affordable rates. Contact us today to know more about aluminum fencing supplies and get a free estimate.
"We have installed our outdoor railings with this company. They have made things very easy for us. They know what they are doing with their experienced team. The railings look nice for our porch.
Staffs are nice and understanding. They are also patient to us.
Are You Ready To Start?
Request a free estimate from our experts!
About Product
No Rust
Aluminum will not rust like Iron
Corrosion resistant qualities
Aluminum has a much longer life span than other materials
Aircraft-grade, aluminum alloys that receive either an anodized or powder coated finish.
Maintenance
Free
Powder coated provides a superior long-lasting finish that will not have to be repainted
Aluminum railings will not splinter or rot like wood railings. Virtually maintenance free
Can be wiped clean of dirt and stains without the need for bleach, solvents, varnishes
Requiring less maintenance and reducing replacement costs in the future.
Great Price
Reasonably priced products
Financially
Technically
Environmentally sound.
Safety
Safety for your home and visitors
Provide a high level of safety while providing a unique
signature to the project's exterior.

Ads to
the Value
Clean, elegant, and structurally robust
By working closely with your design team, we can provide your project with a world-class, balcony railing system that won't hurt your budget.
Provide an innovative and distinct visual signature to buildings. Envy of your neighbors
Seamless
Integration
Integrate into construction projects seamlessly
An extremely clean installation that is free of exposed
base plates and unsightly concrete anchors
We can integrate matching, framed glass gates into the design.
Recycling
Aluminum and stainless steel are among the most recycled materials within the building industry. Aluminum and stainless steel is 100% recyclable with no loss in quality.
Our systems are prefabricated to the greatest extent possible, minimizing onsite waste and improving the overall environmental performance of our product
Gate Lock
Great for pools
1″ x 1″ Used as Intermediate Post
Are You Ready To Start?
Request a free estimate from our experts!
Ideas for You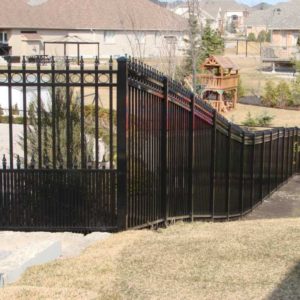 March 21, 2019
If you are living on a hillside or near the slopes, you may need to consider black aluminum decorative fencing installation. They can easily overcome the natural obstacles that come along the way like hills, slopes, and dips.
Service Area