Aluminum Stair Railing Types
About Aluminum Stair Deck Railings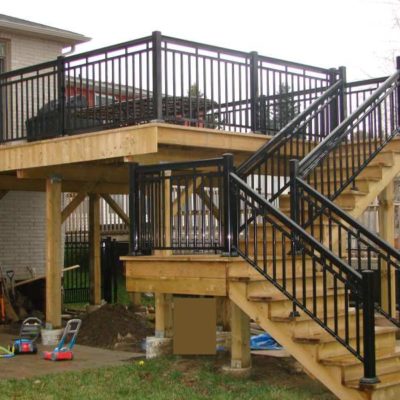 Aluminum deck stair railings are anodized and manufactured from the highest grade of aluminum. We have a wide variety of deck stair railings that consist of various styles and colors for you to choose from. All you have to do is call Northwest Aluminum for a free quote and consultation in choosing the perfect deck stair railing for your home.
Let the market leader help you with the best aluminum deck stair railings
Deck stair railings from NW Aluminum are perfect for both homes and commercial properties. Thus even if you require a large stair railing set for large passages and staircases, we can easily provide the perfect choice for you. In, fact, we combine traditional and Victorian styles too. The advantages of dealing with us is the flexibility where  you get to choose your own quality brands of aluminum deck steps railings or get a customized aluminum deck railing stairs for fabricated for you to match the architecture of your deck and your home.
Things to consider when installing a deck stair railing
When you are contemplating on choosing an aluminum deck stair railing, you should contact the building authorities concerned for the codes and requirements. Alternately, you can simply let NW Aluminum take on the hassles of installing a deck stair railing for you.  Further issues that need to be taken into account are railing height so that it suits your deck for ample sunbathing and relaxation.
There is also the issue of additional hardware that would enhance the security and style of your railings.  Should you be living near a coastline. Let Northwest Aluminum experts come across for an inspection to check what brand of materials would suit the atmosphere with a higher salt content as these could affect the durability of your railings. In such cases, an aluminum deck star railing is the perfect choice for its weather-resistant qualities.
Color and style are important
When it concerns a deck railing, it is an extremely important part of your deck as it requires making a correct choice to be notice as a highlight of your home. The color and style of a deck stair railing can impact the looks of your home in a huge way as it requires blending into the aesthetics of a home as well as being in proportion to your deck.
Benefits and features of aluminum deck stair railings
Easy installation and lightweight structure
Stylish and sculpted deck stair railings with a top guard rail
No complex cutting required
Usage of high quality anodized or dies cast aluminum
Weather resistant powder coating
Rustproof and anti-corrosive
No decay or damage
Available in different colors
Fabrication of customized deck stair railing
Details of an aluminum deck stair railing are important because when you imagine yourself sunbathing on a deck, you'll be surrounded by friends and family admiring your deck. It would be the perfect sport of relaxation which is why its safety is so important. Northwest Aluminum is the best company with trained experts who will walk you through the entire process so that you can be the proud owner of a high-quality aluminum deck railing stairs guaranteed to last a lifetime.
Expertise is important for accurate and precise installation
When you deal with Northwest Aluminum, you gain the benefits of professionalism and expertise along with products of high quality and durability. Even if it's your first experience with aluminum deck railing stairs, you needn't worry as we will provide you a comprehensive guide of information to make a well formed and accurate decision for your deck. All you need to do is contact Northwest Aluminum and leave us to do the rest.
ZEDD in Etobicoke
Dec 2018
"We are extremely pleased with the Aluminum/Glass railing we purchased. Sales staff were very helpful and knowledgeable about the products and the installation was quick clean and very professional. Get job. Highly recommended."
Are You Ready To Start?
Request a free estimate from our experts!
About Product
No Rust
Aluminum will not rust like Iron
Corrosion resistant qualities
Aluminum has a much longer life span than other materials
Aircraft-grade, aluminum alloys that receive either an anodized or powder coated finish.
Maintenance
Free
Powder coated provides a superior long-lasting finish that will not have to be repainted
Aluminum railings will not splinter or rot like wood railings. Virtually maintenance free
Can be wiped clean of dirt and stains without the need for bleach, solvents, varnishes
Requiring less maintenance and reducing replacement costs in the future.
Great Price
Reasonably priced products
Financially
Technically
Environmentally sound.
Safety
Safety for your home and visitors
Provide a high level of safety while providing a unique
signature to the project's exterior.

Ads to
the Value
Clean, elegant, and structurally robust
By working closely with your design team, we can provide your project with a world-class, balcony railing system that won't hurt your budget.
Provide an innovative and distinct visual signature to buildings. Envy of your neighbors
Seamless
Integration
Integrate into construction projects seamlessly
An extremely clean installation that is free of exposed
base plates and unsightly concrete anchors
We can integrate matching, framed glass gates into the design.
Recycling
Aluminum and stainless steel are among the most recycled materials within the building industry. Aluminum and stainless steel is 100% recyclable with no loss in quality.
Our systems are prefabricated to the greatest extent possible, minimizing onsite waste and improving the overall environmental performance of our product
Gate Lock
Great for pools
1″ x 1″ Used as Intermediate Post
Are You Ready To Start?
Request a free estimate from our experts!
Ideas for you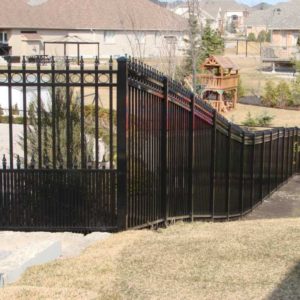 March 21, 2019
If you are living on a hillside or near the slopes, you may need to consider black aluminum decorative fencing installation. They can easily overcome the natural obstacles that come along the way like hills, slopes, and dips.
Service Area