Deck Fence Requirements and Heights
Considering that a deck fence is one of your home's safety features, there are specific regulations that you need to follow during construction particularly if your deck is at least 30 inches from the ground. In Canada, most of these regulations are in compliance with the OSHA. There are instances, however, wherein local authorities include additional restrictions to meet the requirements of their specific areas.
Below are deck fence requirements you may be interested to know.
Lot coverage

– this aspect is no longer covered in the requirements.

Height

– the minimum

height requirement for a deck fence

or deck railing is 36 inches for residential structures. For commercial deck fences, however, such as the railings of restaurants, bars, and even apartments or condominiums, the minimum deck railing height is much higher at 42 inches.

Strength

– at the very least, the

deck fence

should be able to withstand a

200-pound force

. This means that the deck railing should be able to sustain the force exerted by people leaning on it. Keep in mind that the 200-pound force is just the bare minimum, for a testing perspective, the deck fence must be able to withstand the amount of force 2.5 times the bare minimum. This means that the deck fence should be strong enough to hold 500 pounds of force.

Balusters

– to prevent anything or deter anyone from accidentally falling through, deck railings are required to have balusters or vertical guards with spacing that is no more than 4 inches. Apparently, the 4-inch diameter is the average size of a toddler's head and the requirement was set specifically to prevent small kids from sticking their heads and getting stuck in between the balusters.

Location

– you can build a fence or railing in your deck even if your deck is low enough that

deck fence

is not required. Nonetheless, you need to follow the strength requirement.

Fence Side

– this aspect is no longer covered in the requirements.
Deck Fence Designs
While building codes may limit your deck fence design options, you do not necessarily have to build a boring deck railing. You can spice up your deck fence by customizing or choosing a complementary material. Here are a few designs for your deck railing that can complement the overall aesthetic of your home:
Wood Railing
Wood deck railing is a good choice, particularly if you are looking for a more natural and classic look. You can also transform this material into a Victorian or Chippendale style to suit your preference. Wood deck fences are practical and very affordable. Moreover, with proper maintenance and care, your wood deck fence can last for many years.
Stainless Cable Railing
If your deck is located in an area with a good view, you may choose to construct a stainless cable deck railing. Apart from being strong and sturdy, this deck fence design will also not obstruct your view since they are narrower compared with other railing materials. Cable railings can go well with various home designs, whether contemporary or conventional ones. More importantly, if safety is your primary concern, a stainless cable railing will surely deliver as it can withstand tons of pounds of force without breaking.
Glass Railing
If aesthetic ranks high in your list of considerations, then you may want to consider a glass deck railing. Glass offers a high visual appeal, an unhindered view of your surroundings, versatility in design, durability, and ultimate protection since it provides a solid barrier. The downside, however, is that glass railings are more expensive, requires daily maintenance, and can make your deck much warmer as the full glass panels tend to trap heat.
Aluminum Railing
If you live in a traditional style home, you can build a deck fence made of aluminum instead of the usual wood material. Aluminum beautifully captures the impeccable combination of design and functionality, much like your own traditional home. When you use an aluminum railing, you have tons of colors to choose from if you want your deck fence to stand out. Aluminum can also satisfy your desire if you are going for a more elegant or classic look, much like the impression of wood. Apart from giving you versatility in style, aluminum is also more durable and can withstand water or moisture than traditional wood.
When Do You Need Deck Fence?
You are not obligated by law to build a deck fence if your deck is low-rise or below 30 inches from the ground. But if your deck rises over 30 inches from the ground, building code conditions demand that you construct a deck railing in accordance with specific requirements mentioned above.
Is It Cost Effective to Replace Deck Fence or Repair It?
There is no hard and fast rule with regard to making a decision to replace or repair a deck fence as there are many factors to consider. Nonetheless, it is important to point out that there are two occasions wherein you have no choice but to replace your deck railings.
When you want to completely change the style and design of your deck fence and when your deck railing is in need of extensive repair because it already poses a great safety risk.
When the damage is too extensive, particularly if your railings have yet to be replaced for decades, it would be more cost-effective to opt for a replacement since the cost of repair would most likely amount to the replacement cost.
If your deck railing is essentially still in good condition (safety-wise) but there are just certain sections that are loose, wobbly or broken, then you may opt for repair as it would be less costly than replacing everything.
Note that deck railing repairs may cost you somewhere between $500 to $4,000 depending on the difficulty of the job, the deck fence material, and the repair rates in your area.
ZEDD in Etobicoke
Dec 2018
"We are extremely pleased with the Aluminum/Glass railing we purchased. Sales staff were very helpful and knowledgeable about the products and the installation was quick clean and very professional. Get job. Highly recommended."
Are You Ready To Start?
Request a free estimate from our experts!
About Product
No Rust
Aluminum will not rust like Iron
Corrosion resistant qualities
Aluminum has a much longer life span than other materials
Aircraft-grade, aluminum alloys that receive either an anodized or powder coated finish.
Maintenance
Free
Powder coated provides a superior long-lasting finish that will not have to be repainted
Aluminum railings will not splinter or rot like wood railings. Virtually maintenance free
Can be wiped clean of dirt and stains without the need for bleach, solvents, varnishes
Requiring less maintenance and reducing replacement costs in the future.
Great Price
Reasonably priced products
Financially
Technically
Environmentally sound.
Safety
Safety for your home and visitors
Provide a high level of safety while providing a unique
signature to the project's exterior.

Ads to
the Value
Clean, elegant, and structurally robust
By working closely with your design team, we can provide your project with a world-class, balcony railing system that won't hurt your budget.
Provide an innovative and distinct visual signature to buildings. Envy of your neighbors
Seamless
Integration
Integrate into construction projects seamlessly
An extremely clean installation that is free of exposed
base plates and unsightly concrete anchors
We can integrate matching, framed glass gates into the design.
Recycling
Aluminum and stainless steel are among the most recycled materials within the building industry. Aluminum and stainless steel is 100% recyclable with no loss in quality.
Our systems are prefabricated to the greatest extent possible, minimizing onsite waste and improving the overall environmental performance of our product
Gate Lock
Great for pools
1″ x 1″ Used as Intermediate Post
Product Gallery
Are You Ready To Start?
Request a free estimate from our experts!
Ideas for You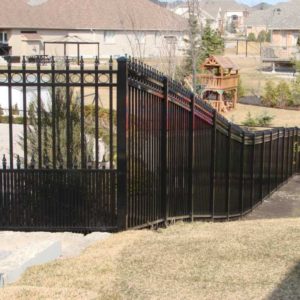 March 21, 2019
If you are living on a hillside or near the slopes, you may need to consider black aluminum decorative fencing installation. They can easily overcome the natural obstacles that come along the way like hills, slopes, and dips.
Service Area