Aluminum Stair Railing Types
Why Choose Aluminum Safety Railing
Railing is installed because they provide safety and security especially to people with special needs, children, pets and elderly. We want to make sure our loved ones are safe and protected. With us, even if you are away, you will have the peace of mind and confidence that the railings will protect your family. We, at NW , are concerned with our customer's safety so we make sure that our railing system is secure and of high quality.
Aluminum has many benefits. It is one of the best options for your safety and other railing needs. Here are some of the reasons why you should install aluminium safety rails:
Low Maintenance. Aluminum is considered as a low maintenance railing material. Made from high grade aluminum metal, it is also powder-coated to ensure durability. By simply washing it with soap and water, it will return to its sparkling and shiny features again. You don't even have to do this every day. Unlike with wood, it can be a little cheaper than aluminum, but its high maintenance and need regular repainting.
Cheaper on the long run. Because of the amazing qualities of aluminum, it is a bit expensive as compared to other alternatives. However, the quality and durability is worthwhile, as it will definitely exceed the cost that you paid for. No more maintenance hassles and extra cost to keep it in its perfect shape. Once it is installed, it is sure to keep your loved ones safe for a long time, just perfect for your aluminium safety rail systems
Best for All Season. Aluminum is perfect for all seasons. It can withstand extreme weather conditions such as rain, heat of the sun and snow. It doesn't rust so it is also best in areas near the beach. Unlike wood and PVC materials, aluminum doesn't breakdown when exposed to UV rays of the sun. Aluminum never loses its structural integrity and it becomes stronger as it ages. This is why it is the best for aluminum safety railing projects.
Non-Corrosive. Aluminum railings do not rust. This is another guarantee that it will last longer than other materials. Wood may deteriorate overtime, even if it's religiously painted. Steel even if it's galvanized can also result to rusting and paint may peel off. Having rusty railings is not only unsightly but can also put your loved ones at risk. This may become weak and unable to provide support.
Keeping Your Loved Ones Safe with NW Aluminum Safety Railings
Our railings are designed to meet the building code standard. It does not only offer quality, but also style and elegance. With over 200 designs to choose from, you will definitely find a suitable design for your railing project.
We understand that the top reason why you want to have railings installed is safety. This is why we ensure that are railings are strong and installed only by qualified people. Other than that, we also add style and color to our products, to make it pleasing to the eyes. To learn more about our services contact us at 647-952-5023.
Gail in Richmond Hill
Jan 2019
"Northwest Aluminum installed guardrail on our back steps. They arrived to design and provide a quote within a day of our first contact. They worked with us to come up with a cost efficient design. They delivered and installed within a 3 week period. We are very happy with the service and product."
Are You Ready To Start?
Request a free estimate from our experts!
About Product
No Rust
Aluminum will not rust like Iron
Corrosion resistant qualities
Aluminum has a much longer life span than other materials
Aircraft-grade, aluminum alloys that receive either an anodized or powder coated finish.
Maintenance
Free
Powder coated provides a superior long-lasting finish that will not have to be repainted
Aluminum railings will not splinter or rot like wood railings. Virtually maintenance free
Can be wiped clean of dirt and stains without the need for bleach, solvents, varnishes
Requiring less maintenance and reducing replacement costs in the future.
Great Price
Reasonably priced products
Financially
Technically
Environmentally sound.
Safety
Safety for your home and visitors
Provide a high level of safety while providing a unique
signature to the project's exterior.

Ads to
the Value
Clean, elegant, and structurally robust
By working closely with your design team, we can provide your project with a world-class, balcony railing system that won't hurt your budget.
Provide an innovative and distinct visual signature to buildings. Envy of your neighbors
Seamless
Integration
Integrate into construction projects seamlessly
An extremely clean installation that is free of exposed
base plates and unsightly concrete anchors
We can integrate matching, framed glass gates into the design.
Recycling
Aluminum and stainless steel are among the most recycled materials within the building industry. Aluminum and stainless steel is 100% recyclable with no loss in quality.
Our systems are prefabricated to the greatest extent possible, minimizing onsite waste and improving the overall environmental performance of our product
Gate Lock
Great for pools
1″ x 1″ Used as Intermediate Post
Product Gallery
Are You Ready To Start?
Request a free estimate from our experts!
Ideas for you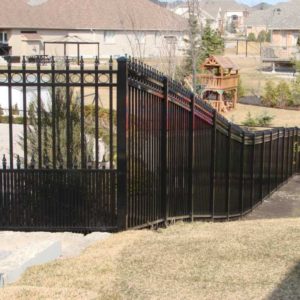 March 21, 2019
If you are living on a hillside or near the slopes, you may need to consider black aluminum decorative fencing installation. They can easily overcome the natural obstacles that come along the way like hills, slopes, and dips.
Service Area