Aluminum Stair Railing Types
Aluminum Garden Fence Panels
Give your garden a modern look by choosing North West Aluminum as your supplier for aluminum garden fence panels. Organize your garden with some resistant aluminum panels. They will keep your pets away from destroying the landscape you passionately created for your residence.
The aluminum garden fence panels are very easy to install. They will define the borderline between the "free to ride" areas and those where you would like to keep limited access. We know how hard you work to keep your garden always clean. Therefore, we have created these durable aluminum fence panels which will keep any unwanted guests away.
North West Aluminum is Here to Offer You Fencing Solutions for Your Garden!
When it comes to a garden fence the materials are not the only ones that matter. What is also important is the design. Therefore, North West Aluminum manages to combine durability with versatile concepts that change completely the look of your garden. We want your garden to inspire you and offer you the relaxation you always wanted.
From our point of view, quality is very important. This is why we guarantee our aluminum quality. It does not matter if you live in the southern or northern part of the country, North West Aluminum will make your dream possible and deliver a durable fence directly to your home. Our fences resist under any weather conditions. Do you live in a sunny region? Or in a colder one? North West Aluminum has nothing to worry about. Our fences will resist 20+ years and we will be proud to be your grandson's providers as well.
On the other hand, the look is the one that sells. Even though you want to fence your private garden, this doesn't mean that you shouldn't be stylish. We have thought of all these aspects and we adapted to the market trends. We are able to offer various profile for our aluminum garden fence panels and so far, we can say that we managed to satisfy even the pickiest tastes.
In addition, if we are talking about colors, we like to play big. We like to surprise our clients, and this is why we are among the fewest aluminum providers who can offer not so common colors. What is more, we offer powder coated painting. For those who do not know what this means, the powder coated painting is very resistant. Your aluminum garden fence panels color will not peel or keep its shine for a very long time.
Test our abilities and give us a call today! We are here to make things happen. North West Aluminum will be more than happy to hear your ideas and assist you in fencing your garden. You need quality, resistant, and versatility and we are here to help you achieve them.
Alaska Young in Etobicoke
Dec 2018
"We had existing railings around our porch and we just needed to get a few rails down the steps. The team was very quick to respond, they came out for measurements and were able to match the design and colour. We're super pleased and will definitely recommend this company to all friends and family."
Are You Ready To Start?
Request a free estimate from our experts!
About Product
No Rust
Aluminum will not rust like Iron
Corrosion resistant qualities
Aluminum has a much longer life span than other materials
Aircraft-grade, aluminum alloys that receive either an anodized or powder coated finish.
Maintenance
Free
Powder coated provides a superior long-lasting finish that will not have to be repainted
Aluminum railings will not splinter or rot like wood railings. Virtually maintenance free
Can be wiped clean of dirt and stains without the need for bleach, solvents, varnishes
Requiring less maintenance and reducing replacement costs in the future.
Great Price
Reasonably priced products
Financially
Technically
Environmentally sound.
Safety
Safety for your home and visitors
Provide a high level of safety while providing a unique
signature to the project's exterior.

Ads to
the Value
Clean, elegant, and structurally robust
By working closely with your design team, we can provide your project with a world-class, balcony railing system that won't hurt your budget.
Provide an innovative and distinct visual signature to buildings. Envy of your neighbors
Seamless
Integration
Integrate into construction projects seamlessly
An extremely clean installation that is free of exposed
base plates and unsightly concrete anchors
We can integrate matching, framed glass gates into the design.
Recycling
Aluminum and stainless steel are among the most recycled materials within the building industry. Aluminum and stainless steel is 100% recyclable with no loss in quality.
Our systems are prefabricated to the greatest extent possible, minimizing onsite waste and improving the overall environmental performance of our product
Gate Lock
Great for pools
1″ x 1″ Used as Intermediate Post
Are You Ready To Start?
Request a free estimate from our experts!
Ideas for You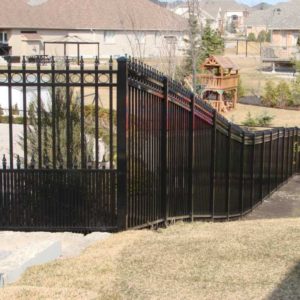 March 21, 2019
If you are living on a hillside or near the slopes, you may need to consider black aluminum decorative fencing installation. They can easily overcome the natural obstacles that come along the way like hills, slopes, and dips.
Service Area