Combination of Safety and Elegance
We often disregard the importance of having aluminum railing posts and its role in keeping us safe. True, its installation has provided a considerable value to the beauty of a space but its security mechanism is beyond what meets the eye. It is indeed amazing how elegance and charm can marry so perfectly with the purpose of this material.
Our company fully understands how function and decoration go well together to amp your construction projects. We have a number of professional team members who are knowledgeable in providing the answers to your needs. Making a choice is surely a breeze with our assistance.
Sizes Matter
Post base gives the structure its much-needed stability. It allows the system to be utilized on a number of applications. So when starting with the project, you should know that aluminum railing posts come in two sizes – the 2×2 and the 3×3. The choice of what size to use is all up to you but with due consideration to what best suits the overall look of your home or commercial space. It is also recommended that the size of the post goes well with the style of railing you're going to utilize it with.
Like any other project, using your intuition as to what matches well together is the name of the game when it comes to aluminum porch railings and posts. Not so confident about your choice? We are here to help you make a well-thought decision.
But Why Aluminum Railing?
Proven Durability
Aluminum railings and posts are most preferred over steel and wood. Aluminum has been proven not to rust so there's no compromising the structural viability of a project. Rust is more than an eyesore. It can eventually lead to unsafe architectural conditions, which should not be a problem with aluminum.
Ease of Use
Whether you are a seasoned contractor or a longtime homeowner, the ease of installation is what counts the most. This is what our aluminum railing and posts are all about. Setting up our materials is truly a breeze. They are also fairly low-maintenance. Given what it is made of, they retain their beauty and reliability.
Better Affordability
Using aluminum for your construction is much more economical than opting for steel. However, this does not mean that it is of low quality. In fact, you add value, elegance, and beauty to your home or commercial structure by using low maintenance aluminum railing. You can also mix it up by having an aluminum railing with wood posts. There's no limit to the possibility.
Safety Begins With Aluminum Railing Posts
A solid railing design system is what sets up a sturdy structure so strong post support is necessary. This will ensure a safe environment. Why leave things to chances when you have the assurance of a secure system?
We are here to provide immediate and efficient assistance. We can even add more by bringing in aluminum railing post lights. Our operators are all set to give you assistance. Call us now at 647-952-5023.
"We have installed our outdoor railings with this company. They have made things very easy for us. They know what they are doing with their experienced team. The railings look nice for our porch.
Staffs are nice and understanding. They are also patient to us."
Are You Ready To Start?
Request a free estimate from our experts!
About Product
No Rust
Aluminum will not rust like Iron
Corrosion resistant qualities
Aluminum has a much longer life span than other materials
Aircraft-grade, aluminum alloys that receive either an anodized or powder coated finish.
Maintenance
Free
Powder coated provides a superior long-lasting finish that will not have to be repainted
Aluminum railings will not splinter or rot like wood railings. Virtually maintenance free
Can be wiped clean of dirt and stains without the need for bleach, solvents, varnishes
Requiring less maintenance and reducing replacement costs in the future.
Great Price
Reasonably priced products
Financially
Technically
Environmentally sound.
Safety
Safety for your home and visitors
Provide a high level of safety while providing a unique
signature to the project's exterior.

Ads to
the Value
Clean, elegant, and structurally robust
By working closely with your design team, we can provide your project with a world-class, balcony railing system that won't hurt your budget.
Provide an innovative and distinct visual signature to buildings. Envy of your neighbors
Seamless
Integration
Integrate into construction projects seamlessly
An extremely clean installation that is free of exposed
base plates and unsightly concrete anchors
We can integrate matching, framed glass gates into the design.
Recycling
Aluminum and stainless steel are among the most recycled materials within the building industry. Aluminum and stainless steel is 100% recyclable with no loss in quality.
Our systems are prefabricated to the greatest extent possible, minimizing onsite waste and improving the overall environmental performance of our product
Gate Lock
Great for pools
1″ x 1″ Used as Intermediate Post
Product Gallery
Are You Ready To Start?
Request a free estimate from our experts!
Ideas For You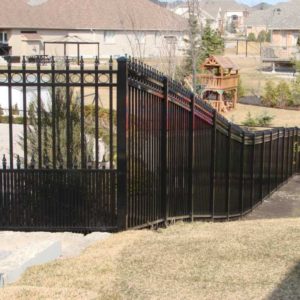 March 21, 2019
If you are living on a hillside or near the slopes, you may need to consider black aluminum decorative fencing installation. They can easily overcome the natural obstacles that come along the way like hills, slopes, and dips.
Service Area