How To Choose Aluminum Deck Railing
NW Aluminum Has Dedicated to Offer Only the Best Aluminum Deck Railing
Selecting the best aluminum deck railing may become overwhelming especially if it's your first time to do the project. A little research may help you make that choice but it might not be enough knowledge to do a committed decision. Let North West Aluminum be your ally in every step of your decision-making process.
We are your go-to supplier of railing system. We do not just deliver the job. We aim to empower our customers with the information they need in order to decide boldly and confidently.
Making the Choice is Not as Difficult
The home is everyone's comfort zone. It is only understandable to want only what's best for it. From the smallest detail to the biggest purchase, it's normal to be critical about the nitty gritty of things. The same is true when looking for the best aluminum deck railing.
After all, what is at stake here is not only the beauty of your homes but the safety of those who live or visit there. So, how then will you be able to select the finest? Read on.
Talk With the Expert
There's nothing like talking to someone who has the experience and expertise in handling deck railings. True, you can find a whole lot of information on your own. However, sounding off your concerns to someone who can actually respond to them is a totally different and more helpful means. At NW Aluminum, our specialists are on standby to provide necessary information.
Knowledge is Power
Getting started with having the best aluminum deck railing is all about collating the information you've learned. It's now time to take in all the concepts and data you've come to know. These are essential so you can compare and contrast the ones you like and the ones you actually need.
Making the Selection
It's now time to make the choice for your deck railing. Weed out the ones that do not fit your requirements and retain only those that tick both your wants and needs. From these choices, explore what makes each special and unique. This will lead you to the best aluminum deck railing.
Finalize the Design
Come up with the final design for your deck railing. You can do this phase with our experts for a more personal approach to your project. Once the design is finalized, request for a quotation of your customized best aluminum deck railing.
North West Is Here to Provide Guidance
North West Aluminum wants nothing but the best for you and your family. We aim to please you our customers, and at the same time provide the safety that you and your family need and deserve.
Our specialists are very much eager to work with you so you can get the best aluminum deck railing available. We will be there every step of the way to guide you through until the completion of the construction.
Call NW Aluminum today at 647-952-5023.
Rose A. in Mississauga
Dec 2018
"It was a pleasure dealing with Sofiya, who was very quick to respond and was pleasant & professional.
We needed outdoor rails installed for our porch stairs. The workers were very quick, professional and courteous. We were very happy with their work and will definitely use this company again and recommend them to friends and family."
Are You Ready To Start?
Request a free estimate from our experts!
About Product
No Rust
Aluminum will not rust like Iron
Corrosion resistant qualities
Aluminum has a much longer life span than other materials
Aircraft-grade, aluminum alloys that receive either an anodized or powder coated finish.
Maintenance
Free
Powder coated provides a superior long-lasting finish that will not have to be repainted
Aluminum railings will not splinter or rot like wood railings. Virtually maintenance free
Can be wiped clean of dirt and stains without the need for bleach, solvents, varnishes
Requiring less maintenance and reducing replacement costs in the future.
Great Price
Reasonably priced products
Financially
Technically
Environmentally sound.
Safety
Safety for your home and visitors
Provide a high level of safety while providing a unique
signature to the project's exterior.

Ads to
the Value
Clean, elegant, and structurally robust
By working closely with your design team, we can provide your project with a world-class, balcony railing system that won't hurt your budget.
Provide an innovative and distinct visual signature to buildings. Envy of your neighbors
Seamless
Integration
Integrate into construction projects seamlessly
An extremely clean installation that is free of exposed
base plates and unsightly concrete anchors
We can integrate matching, framed glass gates into the design.
Recycling
Aluminum and stainless steel are among the most recycled materials within the building industry. Aluminum and stainless steel is 100% recyclable with no loss in quality.
Our systems are prefabricated to the greatest extent possible, minimizing onsite waste and improving the overall environmental performance of our product
Gate Lock
Great for pools
1″ x 1″ Used as Intermediate Post
Product Gallery
Are You Ready To Start?
Request a free estimate from our experts!
Ideas for You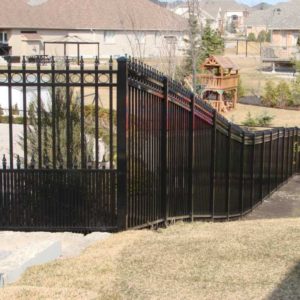 March 21, 2019
If you are living on a hillside or near the slopes, you may need to consider black aluminum decorative fencing installation. They can easily overcome the natural obstacles that come along the way like hills, slopes, and dips.
Service Area