Commercial Handrail Construction Materials and Design
Choosing the right commercial railings can be doubly hard when safety should not be compromised because of the fences aesthetic value. Considering that there are many materials and designs, choosing the best one to meet your commercial demands often becomes one of the most significant considerations.
Commercial hand railing comes in many different materials including wrought iron, brass, stainless steel, aluminum steel, and various other metals. The first consideration you have to determine is what the fencing is supposed to accomplish.
Such given factors to include for your decision includes questions whether providing safety for a commercial or industrial building or security for private property. As always, you need to install a commercial handrail system which can stand up to constant environmental changes and withstand its everyday wear and tear.
Commercial Railing Designs
A grand commercial staircase for your business can be a stunning focal point adding value to your whole enterprise. Hotels with gorgeously decorated banisters create an eye-catching element that captivates every visitor.  Beautiful commercial handrail systems also add to the elegance and functionality of your space defined by its various aspects.
Handrails can be deliberately transformed from a pure safety element into a stylish and modern-looking staircase detail. Handrails and guardrails are more than just structural components, but they can be designed to blend in with the overall architectural blueprint of the entire complex.
Wooden handrails provide a traditional and subtle elegance while metal handrails give off a minimalistic and modern-chic look. Clear glass can be stylistic and beautiful, and a combination or contrast of any of the elements can give a charming and unique aura to your environment space.
        

Aluminum Glass Railings.

Using the glass on the commercial railing systems portrays the delicacy of the architecture. Aluminum glass handrails work best on an indoor installation, but they can be installed on balconies and decks too.

        

Aluminum Picket Railings.

Picket railings are perfect, easy to assemble, and comes with a top rounded rail, they are graspable and run along the stairway beautifully.

        

Aluminum Ornamental Railings.

The beauty of aluminum is portrayed in decorative commercial hand railings, elegant carvings with different designs run along the rails, creating sophisticated, sleek ornament handrails.  
Why Aluminum Handrails are the Best
There are many significant benefits of choosing an aluminum handrail for your staircase. Among the advantages of aluminum are its low-maintenance nature, its strength and beauty, and its affordability. Aluminum also has ideal properties that make its application vast. It does not rust, is durable, and its lightweight properties are among the fantastic features that make them suitable for your aluminum handrails.
The powder coating applied at high temperatures during manufacture of commercial aluminum rails makes it superior to other railing materials. The smooth surface does not hold dirt or dust and can be easily cleaned at least once a year.
Aluminum is also one of the safest railing material because it does not rot and will not rust or decay. Depending on the width of an aluminum railing material it can be bent to achieve the desired shape. It's lightweight, making it easier and cheaper to transport in bulk.
Aluminum is recyclable and is among the most recycled materials in the world. It is resistant to harsh weather conditions and still look new after years of installation and use.
Melody S Toronto
Aug 2017
"We have installed our outdoor railings with this company. They have made things very easy for us. They know what they are doing with their experienced team. The railings look nice for our porch.
Staffs are nice and understanding. They are also patient to us."
Are You Ready To Start?
Request a free estimate from our experts!
About Product
No Rust
Aluminum will not rust like Iron
Corrosion resistant qualities
Aluminum has a much longer life span than other materials
Aircraft-grade, aluminum alloys that receive either an anodized or powder coated finish.
Maintenance
Free
Powder coated provides a superior long-lasting finish that will not have to be repainted
Aluminum railings will not splinter or rot like wood railings. Virtually maintenance free
Can be wiped clean of dirt and stains without the need for bleach, solvents, varnishes
Requiring less maintenance and reducing replacement costs in the future.
Great Price
Reasonably priced products
Financially
Technically
Environmentally sound.
Safety
Safety for your home and visitors
Provide a high level of safety while providing a unique
signature to the project's exterior.

Ads to
the Value
Clean, elegant, and structurally robust
By working closely with your design team, we can provide your project with a world-class, balcony railing system that won't hurt your budget.
Provide an innovative and distinct visual signature to buildings. Envy of your neighbors
Seamless
Integration
Integrate into construction projects seamlessly
An extremely clean installation that is free of exposed
base plates and unsightly concrete anchors
We can integrate matching, framed glass gates into the design.
Recycling
Aluminum and stainless steel are among the most recycled materials within the building industry. Aluminum and stainless steel is 100% recyclable with no loss in quality.
Our systems are prefabricated to the greatest extent possible, minimizing onsite waste and improving the overall environmental performance of our product
Gate Lock
Great for pools
1″ x 1″ Used as Intermediate Post
Are You Ready To Start?
Request a free estimate from our experts!
Ideas for You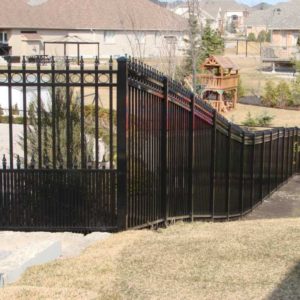 March 21, 2019
If you are living on a hillside or near the slopes, you may need to consider black aluminum decorative fencing installation. They can easily overcome the natural obstacles that come along the way like hills, slopes, and dips.
Service Area