How Much Does it Cost to Fence in a Yard?
Having a yard fence has lots of benefits. However, there are several things you have to consider such as your budget, materials and permits. So, before you have a yard fence installed, here are some of the things you need to know.
As for the installation cost, it can range around $2,000 or more. A six-foot fence can cost about $3 to as much as $13 per linear foot. On the other hand, security gates can cost around $5,000 and above, while electric fences may range about $1,000 or higher.
Installing a yard fence can be expensive, but purchasing the fence materials is another thing. Regardless of the fence material, you have to prepare enough budget for it. Also, take consideration of extra expenses when you decide to hire a professional fence installer to do the job.
Yard fence installation can be costly, mostly due to labor and the materials used. However, other factors can affect installation cost. These include:
HOA approval
Permit
Utility line markings
Necessary preparation needed
Delivery and logistics
You can choose to install the fence yourself, but it won't be that easy. It depends on how high your fence will be. The higher the fence, the longer, more expensive, and more complicated it will take to be installed. Hence, hiring a professional installer can be a logical choice albeit can be expensive as well.
Building a yard fence can be a great idea for your home. For one, it offers protection to your property. It also prevents wild animals from entering and ruining your property. You can also choose from among different shapes, sizes, design, and function of fences. That said, a yard fence can also improve your home's overall look.
Before buying a fence, you should determine the best fencing type for your home needs. You should also consider your budget and purpose why you need a fence in the first place. There are also professional fence installers you can rely on to help with the installation process.
For starters, common types of fences are ones made from:
Aluminum
Bamboo
Chain Link
Wood
Wrought iron
PVC
Electric
And many more!
According to fencing experts, chain link fences are the cheapest among the lot. Not only can it last long enough, but also easy to install. Chain link fences are usually made from aluminum and PVC, or galvanized steel. On the other hand, a wooden fence may be more expensive to buy and install.
Should I Fence My Front Yard?
Some homeowners prefer fencing their front yard for aesthetic purposes. On the other hand, some choose to fence their front yard for protection. While fencing may not guarantee 100 percent protection (depending on the installation process and fencing material used), fencing does offer benefits among homeowners.
Among these possible benefits include the following:
Provides safety especially among children and pets

Provides security against wild animals and even pets from potentially ruining your garden

Can deter potential burglars from intruding your home

Serves as a "border" between your neighbor's property
On the other hand, a yard fence may also have its own set of cons. This includes the following:
Expensive to install and maintain

May block your view on the outside

May look unpleasant (depending on fence material)
While front yard fences are already common, a lot of homeowners still do not have any idea about fencing or whether they need it. Among things you need to consider when deciding to have fencing include:
Children and Pets
If these two both live in your home, then yard fencing may be necessary. For one, you can have peace of mind when you know your small child or pet cannot easily run across the busy street. Some fences also have extra features for added privacy and security for your property.
Property Issues
This may not be a common issue, but fencing can help solve this concern should the need arises. Just make sure where your property boundary is so you can place the fence and separate your property from your neighbor's.
Building Codes and Restrictions
Some areas require complying with the local building code before installing a fence. For example, it may be that your location has a restriction in fencing height. Such restrictions should be followed, or else you may have to remove your fence eventually.
Purpose
Ask yourself why you want to build a fence. Is it for security or for aesthetic purposes? On one hand, a nice fence can enhance the look of your yard. On the other hand, having a fence can distract the eyes especially if you already have a well-maintained front yard. Nevertheless, it is important to consider your main reason why you want to have a fence installed in your yard.
What is the Best Type of Fence for My Yard?
The fence material you intend to use should also depend on which animal commonly aim for your property. Here are some of them and some of the recommended type of yard fence you should install:
Dogs and Cats
A 3-foot wire mesh fence with durable posts is recommended to prevent cats from climbing up the fence. Dogs also cannot knock them over, and may not able to dig under it as long as you form a wide apron on the ground.
Woodchuck
Woodchucks can climb well, so it is recommended to have an electric fence to prevent them from climbing over. A wide apron buried on the ground will also prevent them from digging under.
Rabbits
Since they cannot jump that high, installing a 2-foot chicken wire fence with an inch-diameter holes can suffice. Curve the fence's bottom at 90 degrees to form a wide apron so the animal cannot dig below.
Deer
Deer are perhaps one of the most common animal intruders around. They can jump high, that is why a higher fence is required. Ideally, a fence measuring at least eight inches tall and slanted at 45 degrees can be effective to deter deer. Make sure not to have space below the fence where the deer can wiggle into.
Bears
They can easily destroy most fences, except chicken wire and electrical fences.
Opossums and Raccoons
You can build a four-foot fence with an unattached top at 18 inches can deter the animals from climbing over it. Electric wiring over the fence can also work. Bury the bottom of the fence and fold it 90 degrees so it will form a wide apron and prevent the creatures from digging under it.
Coyote
Coyotes can jump high, so it is ideal to have a high fence with electric wiring on top.
Moles, Gophers, and Other Tunneling Creatures
They mostly spend their time digging under the ground and popping out on the other side of the field. They can be hard to detect, and using a fence to block them out can be a challenge. Before you know it, they may have already damaged your garden and your property. What you can do is to dig at least a 2-foot deep hole in your target protected area. Using wire mesh, line up the bottom and sides of the plant bed before setting your garden. To protect your trees, use wire mesh and place them some inches below the ground and at least two feet of the tree trunk.
Before You Proceed
Before choosing which type of yard fence to install on your front yard, here are some things you need to consider:
Why Do I Need a Fence?
Before proceeding to install a fence, you should consider why you want to build one in the first place. For example, you may want to install an electric fence so that wild animals won't be able to climb up to your property. For security purposes, you may want one that is high and solid enough not to be easily intruded by potential burglars.
Fences can also be used to create zoning within your backyard or garden area. In this case, you can do with shorter fences. By identifying the specific purpose of your fencing project, you can easily choose which type of fence you need.
How Tall and Wide Should I Make my Fence?
Determining the height of your fence is important when considering building one. Some homeowners do not want fences that are too high because it can obstruct their view from the outside. On the other hand, some want to have a taller fence to provide security and safety for their property.
These are just some of the things you need to think about when you want to install a fence. Regardless of the purpose, one thing is for sure: building a yard fence can be a good investment for your home.
Gail in Richmond Hill
Jan 2019
"Northwest Aluminum installed guardrail on our back steps. They arrived to design and provide a quote within a day of our first contact. They worked with us to come up with a cost efficient design. They delivered and installed within a 3 week period. We are very happy with the service and product."
Are You Ready To Start?
Request a free estimate from our experts!
About Product
No Rust
Aluminum will not rust like Iron
Corrosion resistant qualities
Aluminum has a much longer life span than other materials
Aircraft-grade, aluminum alloys that receive either an anodized or powder coated finish.
Maintenance
Free
Powder coated provides a superior long-lasting finish that will not have to be repainted
Aluminum railings will not splinter or rot like wood railings. Virtually maintenance free
Can be wiped clean of dirt and stains without the need for bleach, solvents, varnishes
Requiring less maintenance and reducing replacement costs in the future.
Great Price
Reasonably priced products
Financially
Technically
Environmentally sound.
Safety
Safety for your home and visitors
Provide a high level of safety while providing a unique
signature to the project's exterior.

Ads to
the Value
Clean, elegant, and structurally robust
By working closely with your design team, we can provide your project with a world-class, balcony railing system that won't hurt your budget.
Provide an innovative and distinct visual signature to buildings. Envy of your neighbors
Seamless
Integration
Integrate into construction projects seamlessly
An extremely clean installation that is free of exposed
base plates and unsightly concrete anchors
We can integrate matching, framed glass gates into the design.
Recycling
Aluminum and stainless steel are among the most recycled materials within the building industry. Aluminum and stainless steel is 100% recyclable with no loss in quality.
Our systems are prefabricated to the greatest extent possible, minimizing onsite waste and improving the overall environmental performance of our product
Gate Lock
Great for pools
1″ x 1″ Used as Intermediate Post
Are You Ready To Start?
Request a free estimate from our experts!
Ideas for You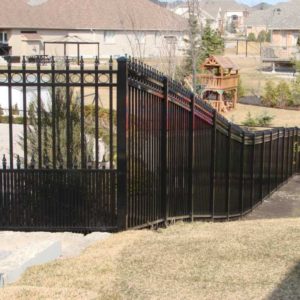 March 21, 2019
If you are living on a hillside or near the slopes, you may need to consider black aluminum decorative fencing installation. They can easily overcome the natural obstacles that come along the way like hills, slopes, and dips.
Service Area