About Backyard Aluminum Gates
When it concerns a residential area, you need to take in account various restrictions such as driveway gates, road and street appearance, the area and architecture of your property. You could opt for picket fence type gate, slat fencing gates for modern architectural styles or gothic for older colonial styled homes. We offer several styles of gates,  from art-deco, Mediterranean, vintage, and ornate, to your own customization including color and style. Discussing such matters with a professional gate expert from Northwest Aluminum will help you select a suitable gate.
The color of your gate
Every aluminum gate form Northwest Aluminum is coated with a special powder to keep it weather resistant and rust free, these are available in various colors and your choice should be one that blends well with your property. It should be the first thing any visitor will notice. The color of your gate should also reflect your personality and appeal. The powder coating applied to gates will add the highest degree of durability making your gate almost maintenance free.
Gate access
Gate access is another important factor of aluminum backyard gates where you get to choose from:
Manual access: Where the gate needs to be opened and closed by hand
Remote access: You can control the opening and closing of your gate which can open outward towards the street.
Electronic card/key access: Although sophisticated forms of access, you will have to share codes or walk up to your gate for key access.
Intercom access: Widely regarded as the safest and most secure form of entry and exit where your gate is controlled by intercom and security camera.
Powering your gate
When choosing any form of access other than manual access, powering your aluminum backyard gates can be run by the same power source you power your home. But, that means cables stretching from your home to your driveway. NW Aluminum offers you a unique opportunity of solar-powered aluminum gates or even driveway gates where solar power is both eco-friendly and affordable.
Aluminum backyard gates are an interesting and unique addition that increases the value of your property. Northwest Aluminum can help you with the best product for your home that will never incur further costs of maintenance or repainting because aluminum is a versatile material that needs just a wipe down and no repainting.
AQUAMASTER, Mississauga
April 2018
"Definitely a 10 star! very professional service and what is the most important for me, project was completed exactly as originally discussed.
I really appreciate the time the installation crew took to finish this project, the best way possible. It came out really nice, puts a smile on my face every time I look at it. That's what I call a job well done!!!"
Are You Ready To Start?
Request a free estimate from our experts!
About Product
No Rust
Aluminum will not rust like Iron
Corrosion resistant qualities
Aluminum has a much longer life span than other materials
Aircraft-grade, aluminum alloys that receive either an anodized or powder coated finish.
Maintenance
Free
Powder coated provides a superior long-lasting finish that will not have to be repainted
Aluminum railings will not splinter or rot like wood railings. Virtually maintenance free
Can be wiped clean of dirt and stains without the need for bleach, solvents, varnishes
Requiring less maintenance and reducing replacement costs in the future.
Great Price
Reasonably priced products
Financially
Technically
Environmentally sound.
Safety
Safety for your home and visitors
Provide a high level of safety while providing a unique
signature to the project's exterior.

Ads to
the Value
Clean, elegant, and structurally robust
By working closely with your design team, we can provide your project with a world-class, balcony railing system that won't hurt your budget.
Provide an innovative and distinct visual signature to buildings. Envy of your neighbors
Seamless
Integration
Integrate into construction projects seamlessly
An extremely clean installation that is free of exposed
base plates and unsightly concrete anchors
We can integrate matching, framed glass gates into the design.
Recycling
Aluminum and stainless steel are among the most recycled materials within the building industry. Aluminum and stainless steel is 100% recyclable with no loss in quality.
Our systems are prefabricated to the greatest extent possible, minimizing onsite waste and improving the overall environmental performance of our product
Gate Lock
Great for pools
1″ x 1″ Used as Intermediate Post
Are You Ready To Start?
Request a free estimate from our experts!
Ideas for You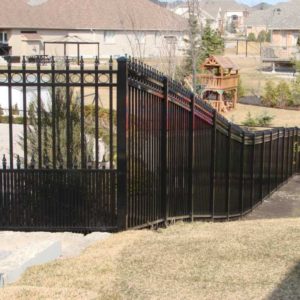 March 21, 2019
If you are living on a hillside or near the slopes, you may need to consider black aluminum decorative fencing installation. They can easily overcome the natural obstacles that come along the way like hills, slopes, and dips.
Service Area