Fence Your Pool For Extra Protection
Owning a house with a nice backyard is great. But owning a house with a nice backyard and a pool means heaven on earth. What can be better than having your own space to spoil yourself and relax during sizzling summer days? And if you also have kids, could there be something more exciting for them than play around the pool during the summer holiday?
However, even though having a pool seems to be a lot of fun, there are also some security measures that you need to take into consideration. Especially when you have small kids who would love to spend all day playing in the water, you should take extra security measures. Unfortunately, accidents can happen. So, it is better to prevent all these and fence your swimming pool.
Why is it Important to Fence Your Swimming Pool?
The studies have shown so far how important it is to fence your swimming pool. Here are a couple of reasons why:
Extra Safety and Security. As we mentioned above, especially when you have kids who love to play in the water, you need to take some safety measurements. If you put a fence around your pool you will be able to control their access in the area.
Legal and Insurance Rules. The statistics have shown that 300 children younger than 5 years, die every year in pool accidents. NW Aluminum has aligned their fencing solutions to these legal requirements. This is why we offer innovative protection methods to help you prevent any unwanted accidents happening to your family members and pets.
Elegant Design. Think for a second how cool your pool will look if you would install a fence around it? Our aluminum pool fence systems in Toronto excel in terms of design. We are always up to date with the latest architectural trends and we put all our efforts to meet our clients' needs. We analyze in detail how the rest of your property looks, and we do our best to fit our fence in the entire scenario.
Let North West aluminum offer you peace of mind with our aluminum pool fence systems available now in Toronto. We care about your family protection and we want to offer you a complete solution when it comes to functionality, protection, and design. We follow the local and international requirements and we pay attention to your concerns.
AQUAMASTER, Mississauga
April 2018
"Definitely a 10 star! very professional service and what is the most important for me, project was completed exactly as originally discussed.
I really appreciate the time the installation crew took to finish this project, the best way possible. It came out really nice, puts a smile on my face every time I look at it. That's what I call a job well done!!!"
Are You Ready To Start?
Request a free estimate from our experts!
About Product
No Rust
Aluminum will not rust like Iron
Corrosion resistant qualities
Aluminum has a much longer life span than other materials
Aircraft-grade, aluminum alloys that receive either an anodized or powder coated finish.
Maintenance
Free
Powder coated provides a superior long-lasting finish that will not have to be repainted
Aluminum railings will not splinter or rot like wood railings. Virtually maintenance free
Can be wiped clean of dirt and stains without the need for bleach, solvents, varnishes
Requiring less maintenance and reducing replacement costs in the future.
Great Price
Reasonably priced products
Financially
Technically
Environmentally sound.
Safety
Safety for your home and visitors
Provide a high level of safety while providing a unique
signature to the project's exterior.

Ads to
the Value
Clean, elegant, and structurally robust
By working closely with your design team, we can provide your project with a world-class, balcony railing system that won't hurt your budget.
Provide an innovative and distinct visual signature to buildings. Envy of your neighbors
Seamless
Integration
Integrate into construction projects seamlessly
An extremely clean installation that is free of exposed
base plates and unsightly concrete anchors
We can integrate matching, framed glass gates into the design.
Recycling
Aluminum and stainless steel are among the most recycled materials within the building industry. Aluminum and stainless steel is 100% recyclable with no loss in quality.
Our systems are prefabricated to the greatest extent possible, minimizing onsite waste and improving the overall environmental performance of our product
Gate Lock
Great for pools
1″ x 1″ Used as Intermediate Post
Are You Ready To Start?
Request a free estimate from our experts!
Ideas for You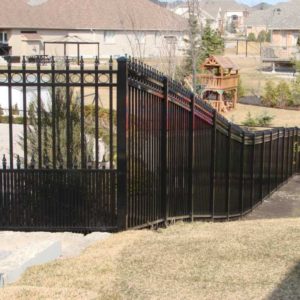 March 21, 2019
If you are living on a hillside or near the slopes, you may need to consider black aluminum decorative fencing installation. They can easily overcome the natural obstacles that come along the way like hills, slopes, and dips.
Service Area