A sunroom is a famous home addition that provides an ideal place to enjoy the outdoors, accommodate guests, or simply relax without being pestered by insects and the scorching heat. Technically, a sunroom is a structure enclosed by glass. It typically has a screened doorway or opening. Some call it as solarium, sun porch, garden room, or patio room. In one particular state in the US, this type of home addition is so popular that they are locally called Florida rooms.
Why Should I Invest in It?
Making a sunroom

provide extra space in your house that you can use all year. You can enjoy eating with your family or entertain guests here.

It is an ideal home addition that enables you to feast in the beauty of nature while keeping you protected from harsh outdoor elements.

It costs lesser than building an additional room

A sunroom can be used for almost anything from the playroom to the family room, to the sitting room.

A sunroom is a good investment for homeowners wanting to have an extra living space

National Association of Realtors says that a sunroom gives the house an extra curb appeal that increases the resale value of the property

According to a study called Profile of Buyers' Home Feature Preferences conducted by the NRA, sunroom ranked higher than exercise room, in-law suite, and media room.
Lilly In Toronto 30
Jan 2019
"Wonderful railings installed for my living room curtains and windows are great show of professionalism and work ethic. Highly recommend these people to everyone out there who wants to do work in a budget. Thanks"
Does Adding A Sunroom Increase Taxes?
Adding on to your home, regardless if it is a porch, sunroom, or another bedroom will most probably increase the property value. When this happens, you are expected to pay for a much higher property tax. The rule of thumb is that adding anything that gives extra value to your property causes an increase in property tax.
What to Know Before Adding A Sunroom?
There are many things that you should consider before adding a sunroom to your home this includes the following:
Location
The most important part when planning to add a sunroom is its location. In northern climates, it is ideal to have a southern exposure since it gets the most amount of light every day. However, if your property is located in southern regions, you might need extra cooling if you have a southern orientation. An eastern exposure may minimize additional cooling needs since it offers a hefty amount of sunlight in the morning and more shade for the remainder of the day.
If you position your sunroom with western exposure, it will be most likely exposed to the heat of the afternoon sun. You might need a shade for this kind of exposure. If you want partial shade for the most part of the day and low levels of light, go for the northern orientation.
If you are located in the North, a northern exposure can dampen and cool the room but works perfectly fine if your place is in the South. When choosing a location, it is important that you know and understand the factors and components that go alongside a seasonal type of room.
Vinyl
The most popular type of material used for sunrooms is vinyl. Most homeowners prefer it over other materials because it offers good insulation, it is less expensive, it is durable and strong, and it requires very minimal maintenance. In addition, most supports made from vinyl are multiwalled. This means that they are equipped with reinforcement inside them that are either made of galvanized or aluminum steel.
Aluminum
Compared to vinyl, aluminum sunroom is more expensive but not as good when it comes to insulation. But, most vertical supports that are coated with vinyl contain aluminum roofing. This type is typically used for added insulation or for decorative purposes. Aside from this, aluminum does not rust and resists corrosion ensuring that your supports will stand for a long period of time.
Wood
The most expensive choice for a sunroom's structural material is wood. Wood is a favorite material for sunrooms because it is a platform that allows easy attachment of the screen mesh. The drawback of this material is that it requires regular maintenance.
Walls
Glass or polycarbonate is typically used as walls and roofs of sunrooms, greenhouses, and other four-season rooms. Unlike other materials, glass is more expensive. However, it offers the most clarity out of all the usual materials used as walls. When installing a glass or polycarbonate wall, always check the U-value.
This refers to the measure of the amount of heat that the material allows to passes. Low U-value only means less amount of heat that passes in the material. Therefore, if you want to have an energy-efficient sunroom, look for the glass or polycarbonate with low U-value.
Costs to Build a Sunroom
Per Square Foot and Type
Generally, a sunroom costs between $120 and $300 per square foot. However, the price per square foot depends on several variables like the size, quality, and type of home addition.
Cost When Hiring A Professional
After the cost of the prefab kit and/or the materials, the estimated cost of building sunrooms ranges between $4,000 and $20,000. Where you are on that range is dependent on the exact type of addition that you want to make.
Amenities
For instance, if you want to build sunrooms in an area exposed to direct sunlight, you have to consider an enclosure that has a shading capability.
If you want to watch movies or TV in that room, you have to install the necessary electrical wiring. If you are installing this type of home addition in an area with plenty of snow or exposed to strong winds, your project might require insulation and a different design to be able to accommodate this condition.
Permits and Licenses
In addition to the factors mentioned earlier, another factor that affects your total cost is the required permits and licenses. The price depends on the area where you are located. Normally, the cost of a permit for a sunroom falls on the lower range of $400 and $180. The permit usually takes 4 to 8 weeks to be available from the date of application.
Solarium vs. Sunroom
Most often, people interchangeably use the term solarium and sunroom. A solarium consists of glass walls and roofs and features the contemporary architecture style. Sometimes, people call it conservatory if it is totally enclosed by glass. These particular glass structures are at times similar to a greenhouse that is freestanding. The purpose of a solarium is to collect light.
This type of structure is usually utilized in commercial settings like in hospitals, restaurants, and sanitariums. This is to allow patrons to bask in the sunlight without getting exposed to the outside environment.
On the other hand, a sunroom is an additional room with extensive windows or has glass walls. Like the solarium, it is designed so people can enjoy the sun without getting exposed to outdoor elements. However, a sunroom is generally used on residences while solariums are used in commercial settings.
Sunroom vs. Conservatory
As mentioned earlier as conservatory is sometimes interchangeably used with solarium and sunroom because of the similarities in its design. It is a room made wholly of glass or polycarbonate materials. It usually comes with a glass roof too. Aside from these, conservatories are known for their seasonality. In other words, out of the four seasons, it is typically used for three seasons.
On the other hand, a sunroom is like an additional room since it can have a roof made from other materials aside from glass like tiles. Actually, some people consider it similar to the regular room except that it has more windows. In some cases, the roof of the sunroom is made more solid to provide more protection from the sun.
In terms of seasonality, the making a sunroom is useful during all four seasons. Some homeowners add or connect a Heating Ventilation and Cooling system to their sunrooms. That way, they can control its temperature at any type of season.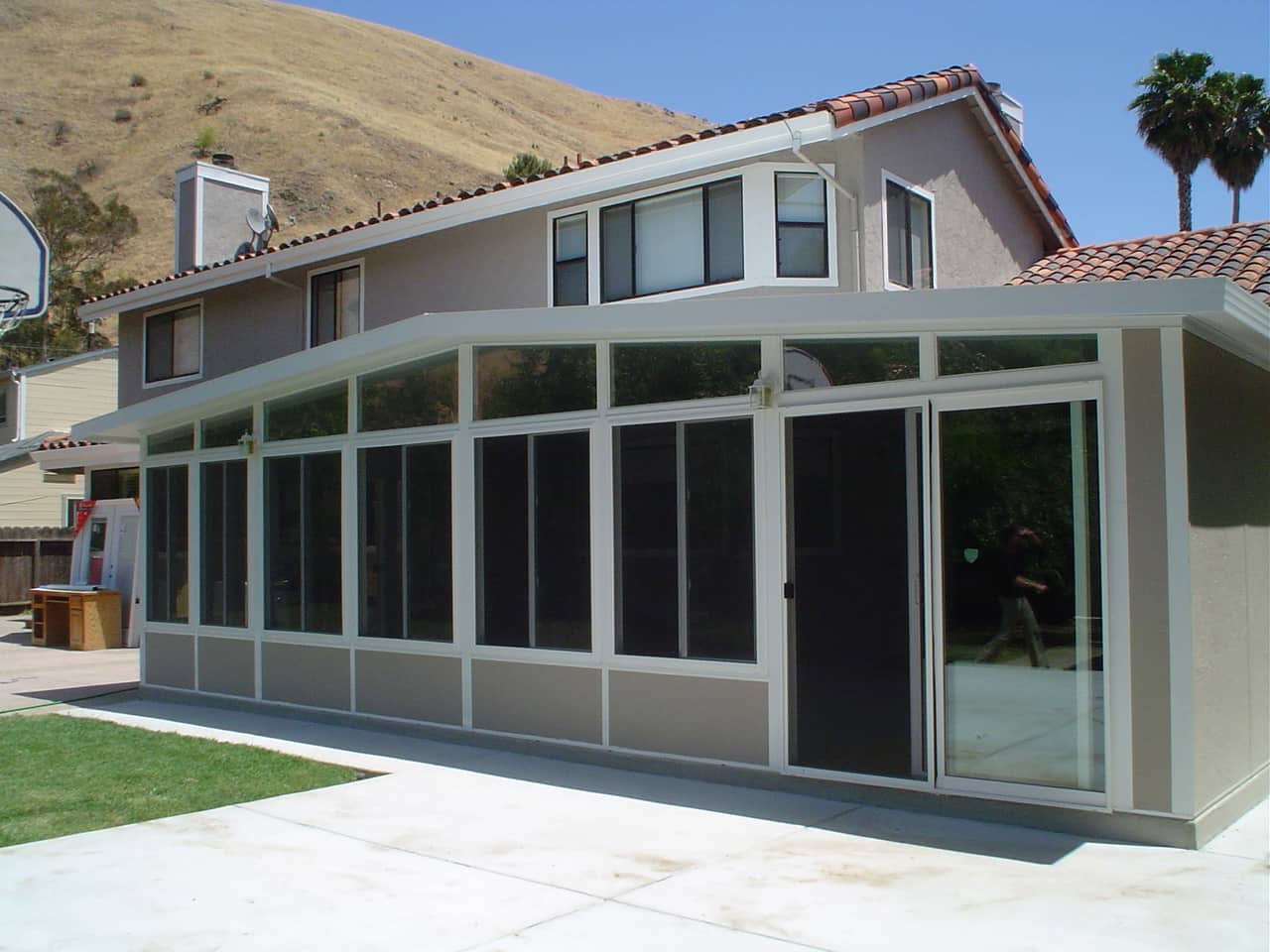 Sunroom vs. Screened Porch
A screened porch is very alike to a sunroom except that it utilizes fiberglass screens instead of glass for its windows. The sole purpose of this design is to enable the breeze outside to flow and circulate throughout the room. This makes it a space that invites the outdoor and makes it a part of your house. A sunroom, however, has a closed glass wall that only allows you to see the outdoors but protects you from its elements by securing that it is totally enclosed.
How To Build Your Own Sunroom
Choose The Windows
Since one of the many purposes of a sunroom is to allow natural light to flood in it, it matters if you select the quality of your windows. Know the size of the window that you would like to install and their respective positions in the room. The plan for the window is one of the crucial factors in a successful sunroom design.
If you are planning to install an HVAC into your sunroom, it is not advised to use a Vinyl window. Insulated windows work perfectly if you will use the room all seasons round. Most professionals use tempered glass in their designs. It is also popularly known as safety glass because in case it breaks, it falls into very small pieces.
Plan for The Electrical System of the Place
Regardless of whether you plan to add amenities to your aluminum sunroom, you still need to include a plan for its electrical system. To do this, identify the number of outlets that you might need along with their corresponding locations in the sunroom.
If you lack comprehensive knowledge about electrical works, you can ask an electrician to do the job for you. The electrician must be qualified and licensed to securely and effectively do the job.
Build The Walls
After the electrical plan, it is time that you start building by framing the walls. Make sure that the door and the windows are included in the framing system. If necessary, use plywood to secure the outer part of the walls. Cut out the needed space for the windows.
Secure the Door and the Windows
Place the windows into space in the wall and ensure that they are properly positioned. To do this, you can drill and utilize the screws. Place the door in the door frame. Make sure that it is correctly leveled and aligned. Insert shims to place the door. Use the screws to fasten the door in its frame.
Finish the Exterior
Use siding when finishing the exterior part. Make sure that you utilize the siding product that performs effectively with the style and design of your room. You can secure the siding using plywood.
Finish the Interior
Before you finish the interior of your aluminum sunroom, be sure that the electrical system is in place. In the walls, install the insulation. This will help you cut down on the cost of energy. Also, it will allow you to use the space all seasons round. Install the wallboard over the insulation and secure it using a drill and screws.
Allow required cuts in the wallboard for your electrical outlets. After that, affix outlet plates and switch. Secure and fasten molding or trim that you would like to utilize in the sunroom. You can paint the wallboard with your desired colors and motifs. Make sure that it works well with the whole space.
Are You Ready To Start?
Request a free estimate from our experts!
About Product
No Rust
Aluminum will not rust like Iron
Corrosion resistant qualities
Aluminum has a much longer life span than other materials
Aircraft-grade, aluminum alloys that receive either an anodized or powder coated finish.
Maintenance
Free
Powder coated provides a superior long-lasting finish that will not have to be repainted
Aluminum railings will not splinter or rot like wood railings. Virtually maintenance free
Can be wiped clean of dirt and stains without the need for bleach, solvents, varnishes
Requiring less maintenance and reducing replacement costs in the future.
Great Price
Reasonably priced products
Financially
Technically
Environmentally sound.
Safety
Safety for your home and visitors
Provide a high level of safety while providing a unique
signature to the project's exterior.

Ads to
the Value
Clean, elegant, and structurally robust
By working closely with your design team, we can provide your project with a world-class, balcony railing system that won't hurt your budget.
Provide an innovative and distinct visual signature to buildings. Envy of your neighbors
Seamless
Integration
Integrate into construction projects seamlessly
An extremely clean installation that is free of exposed
base plates and unsightly concrete anchors
We can integrate matching, framed glass gates into the design.
Recycling
Aluminum and stainless steel are among the most recycled materials within the building industry. Aluminum and stainless steel is 100% recyclable with no loss in quality.
Our systems are prefabricated to the greatest extent possible, minimizing onsite waste and improving the overall environmental performance of our product
Gate Lock
Great for pools
1″ x 1″ Used as Intermediate Post
Product Gallery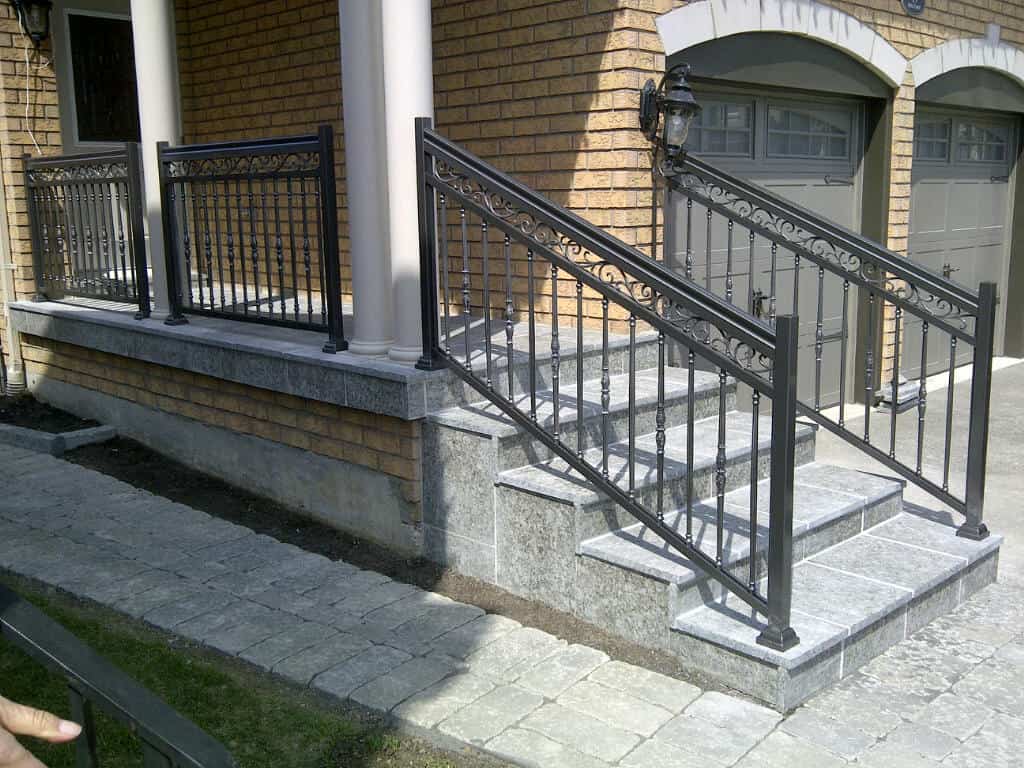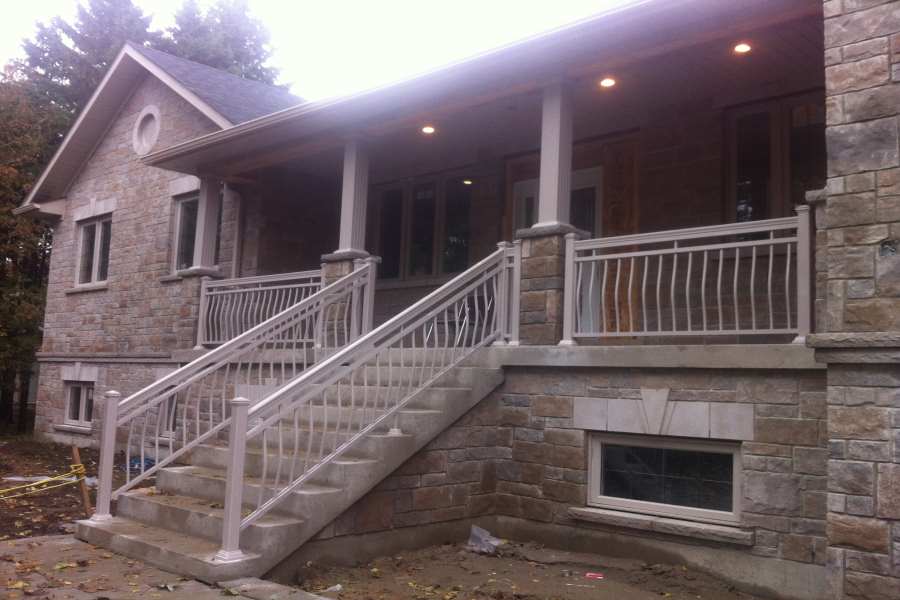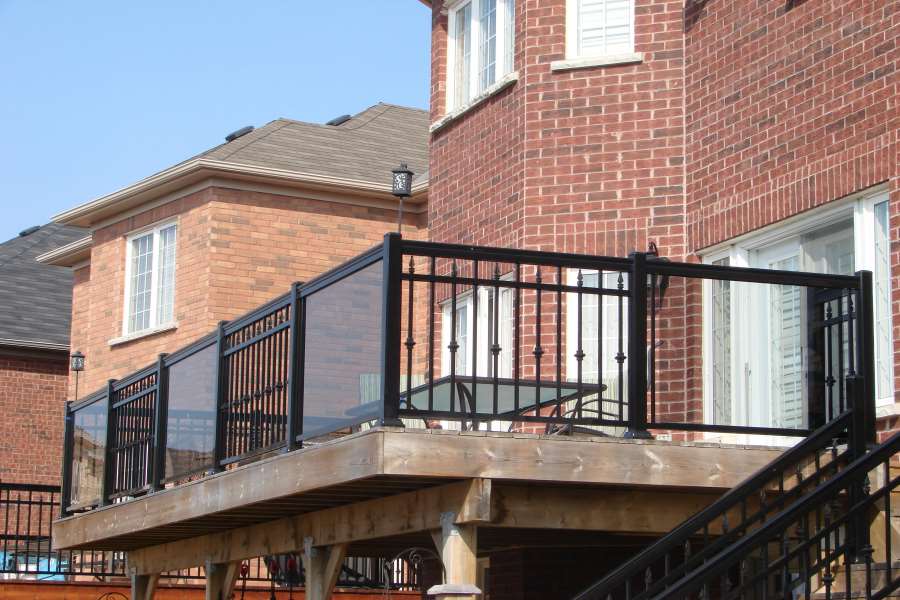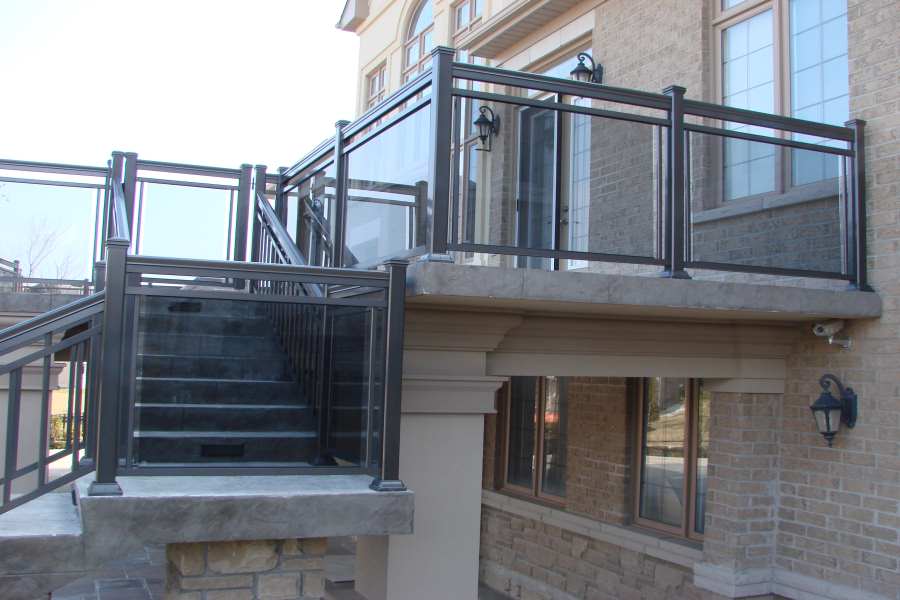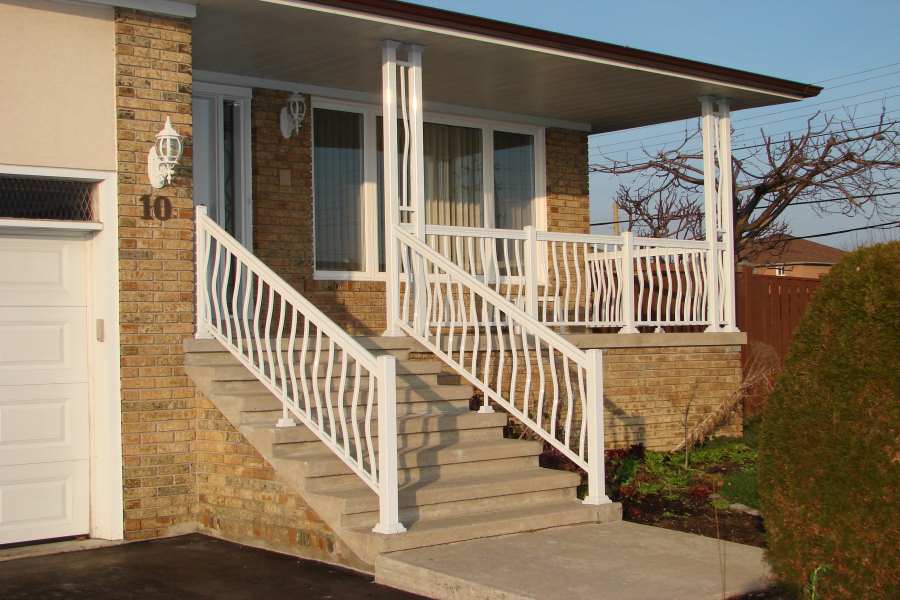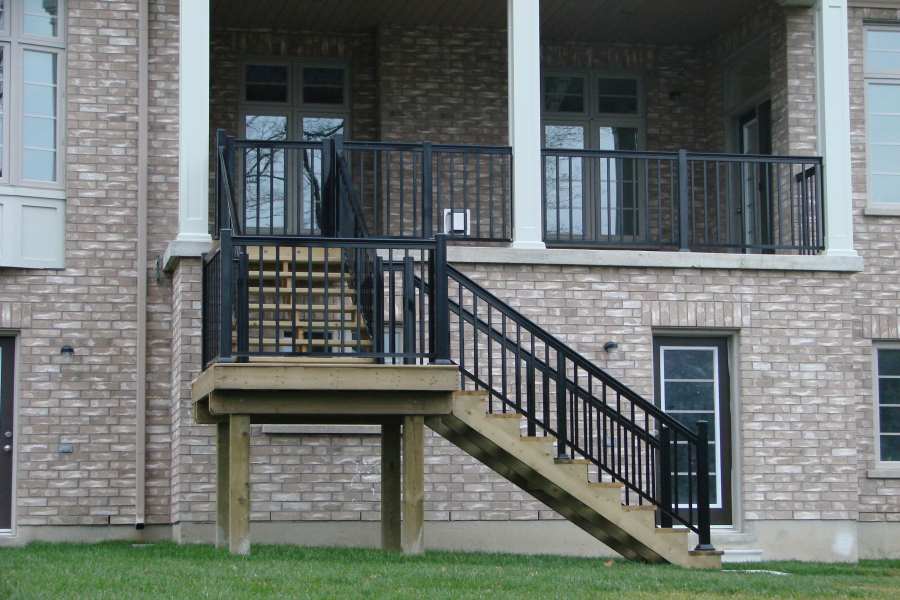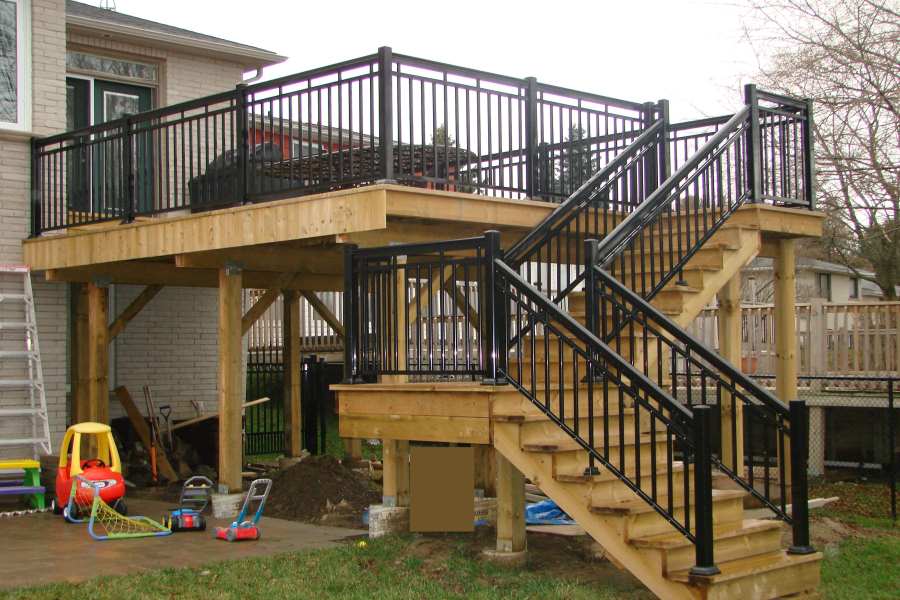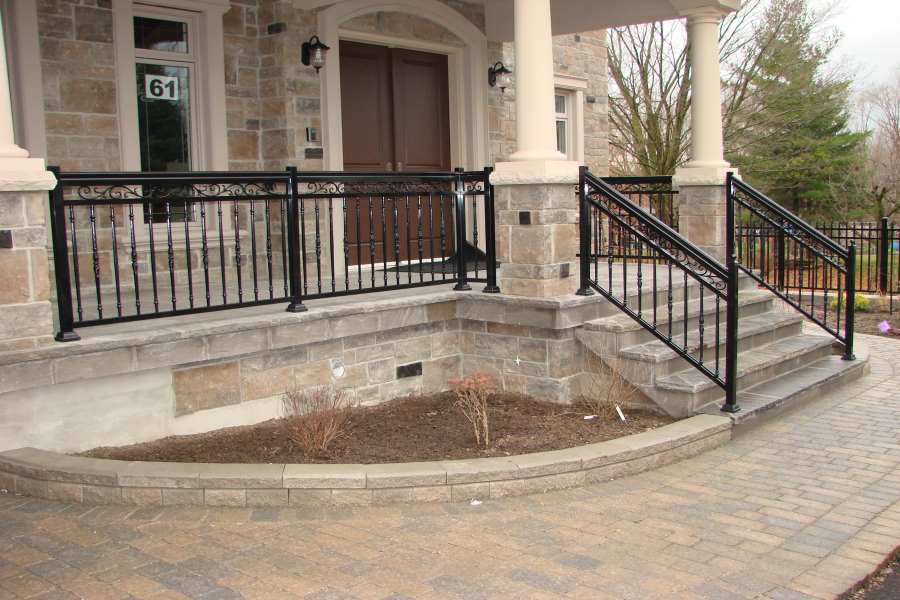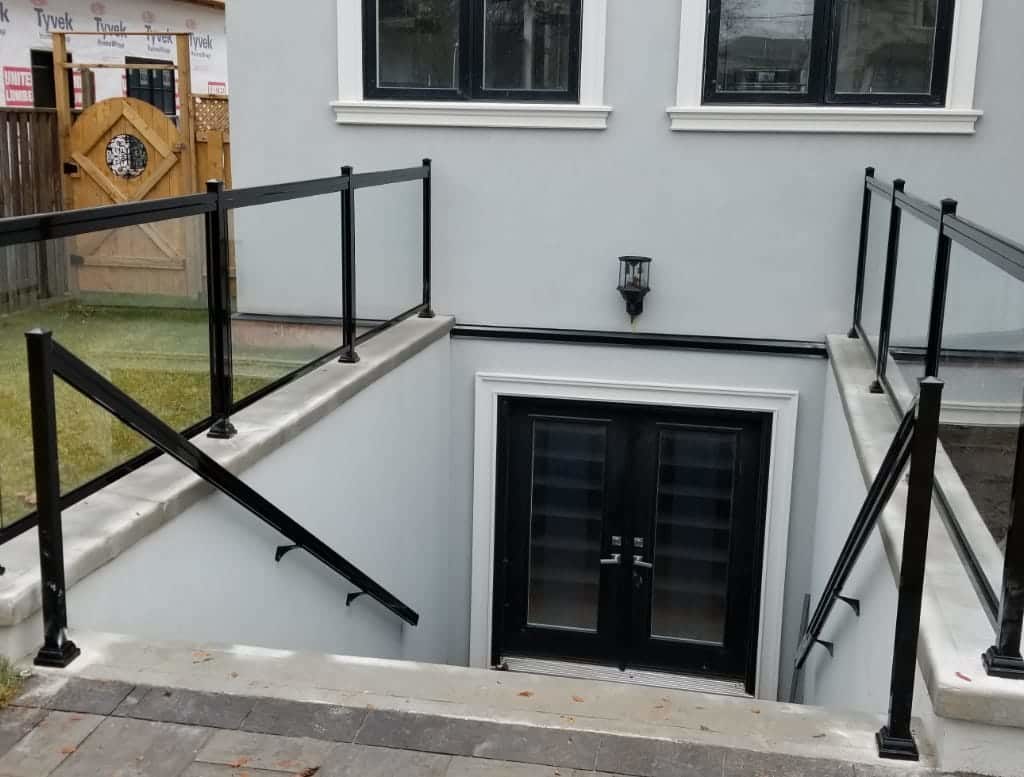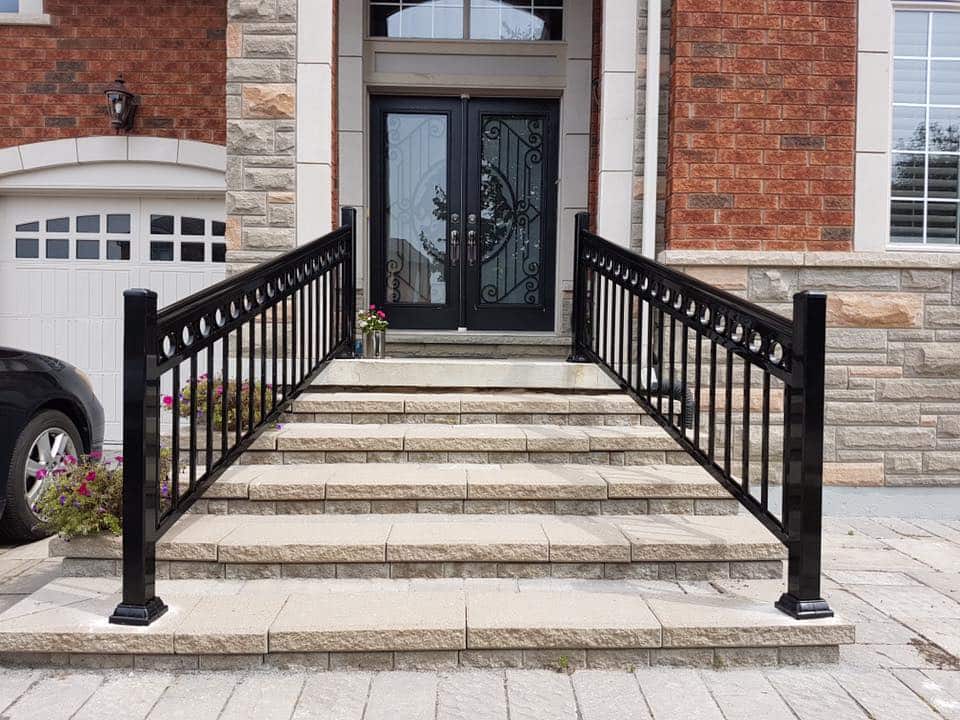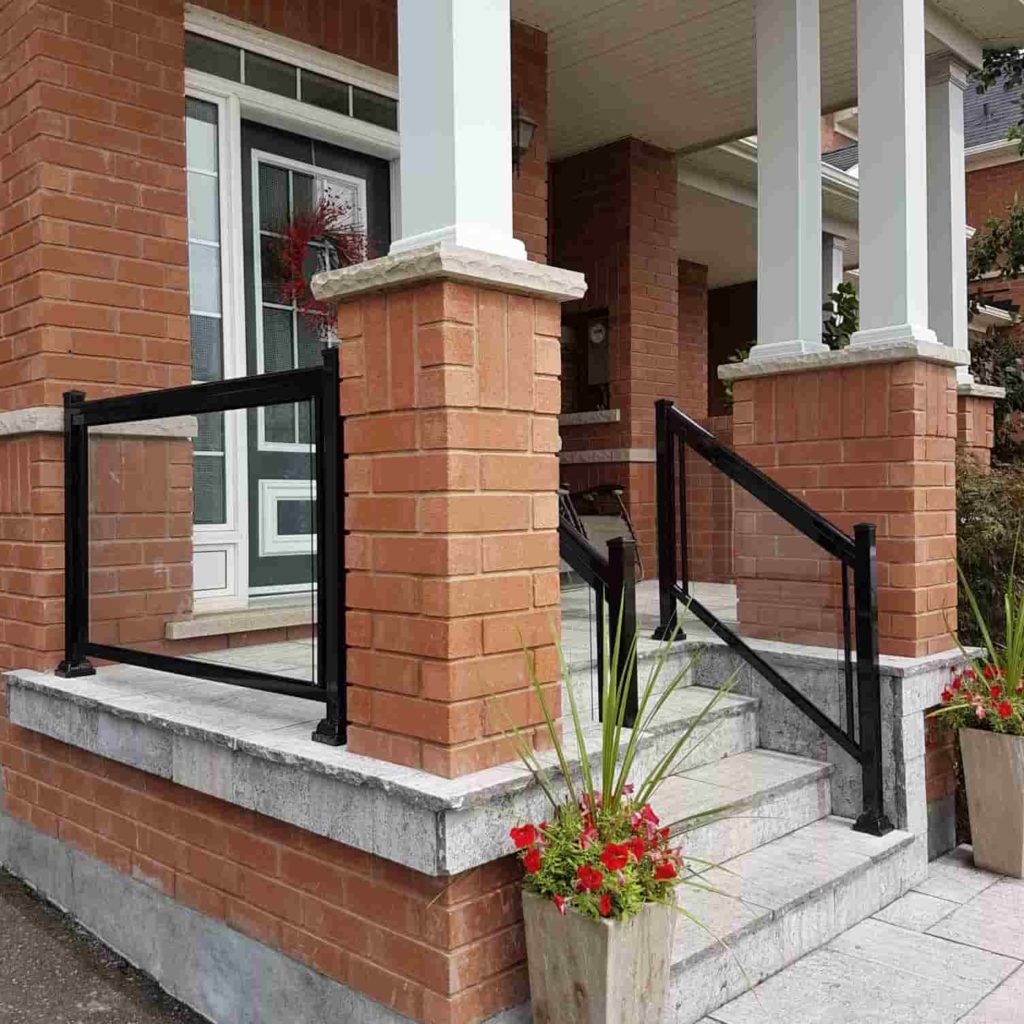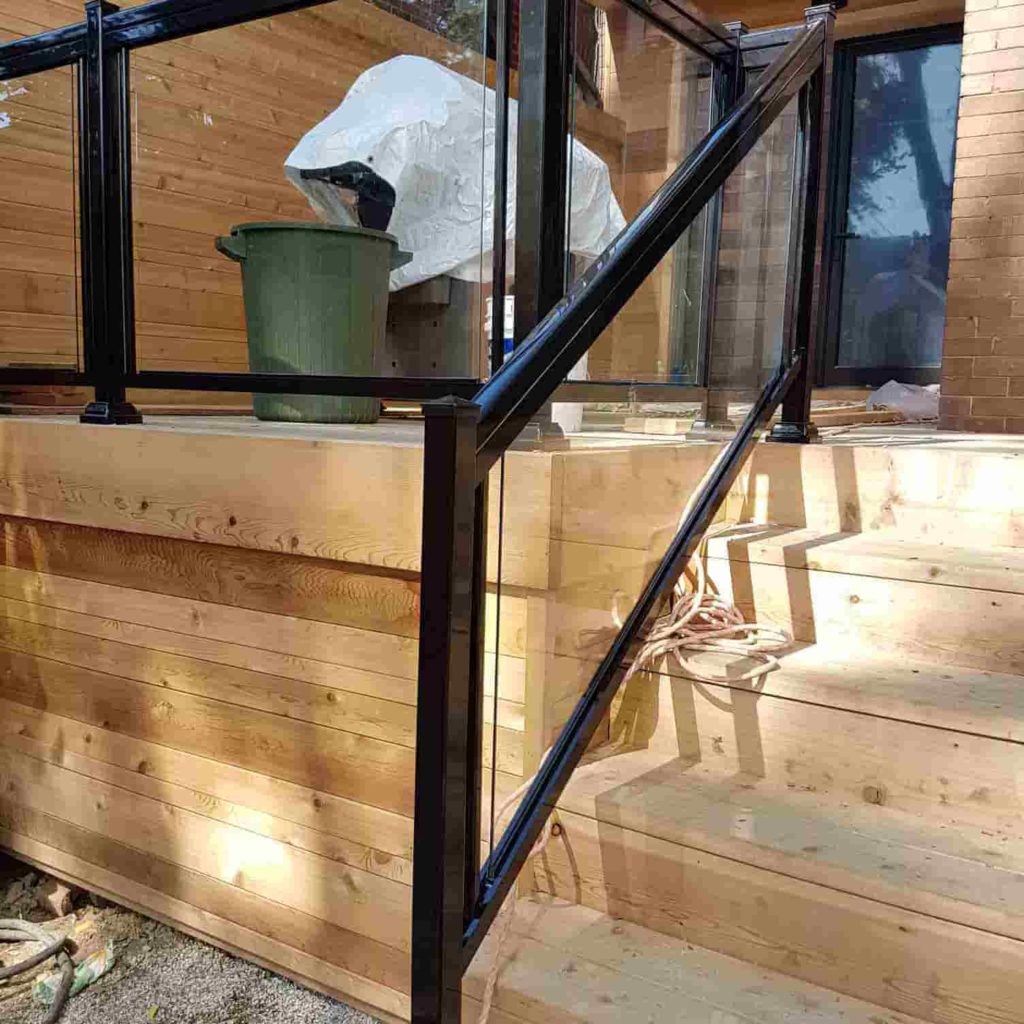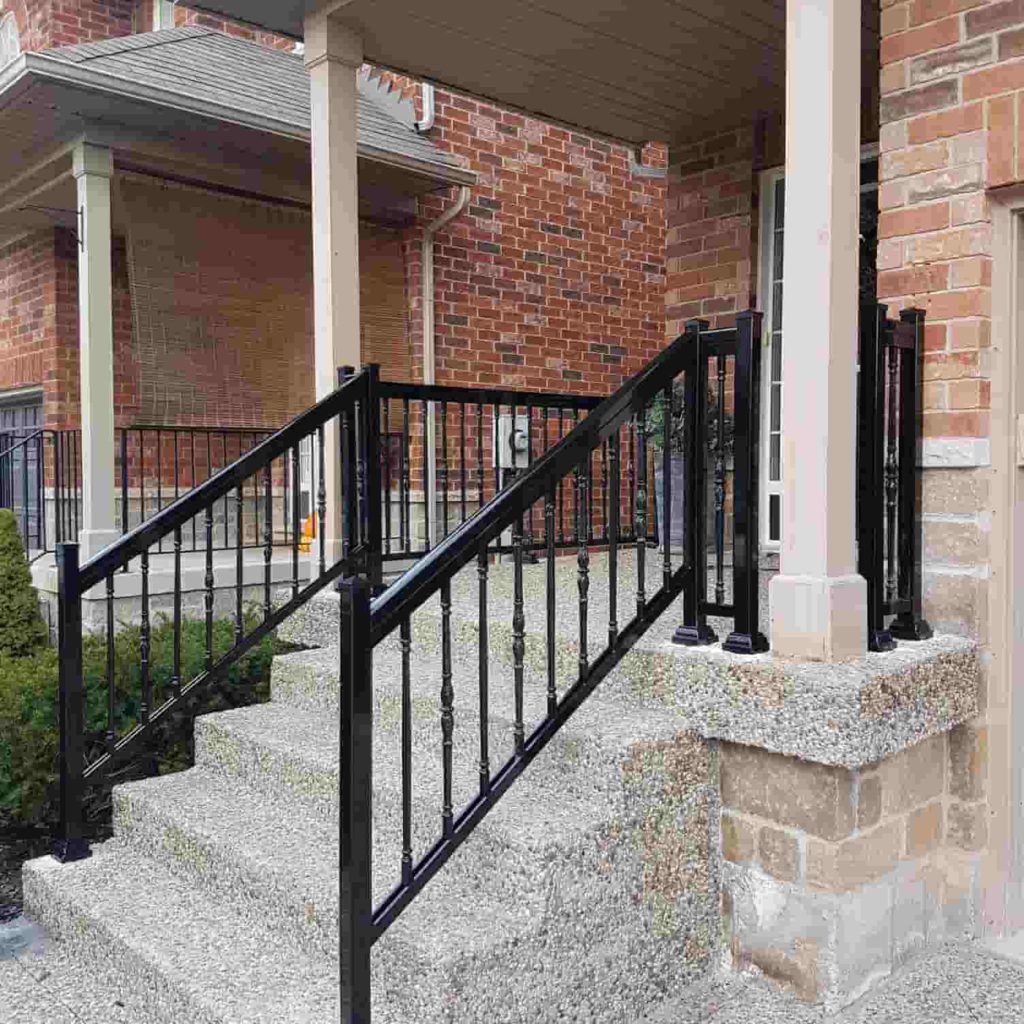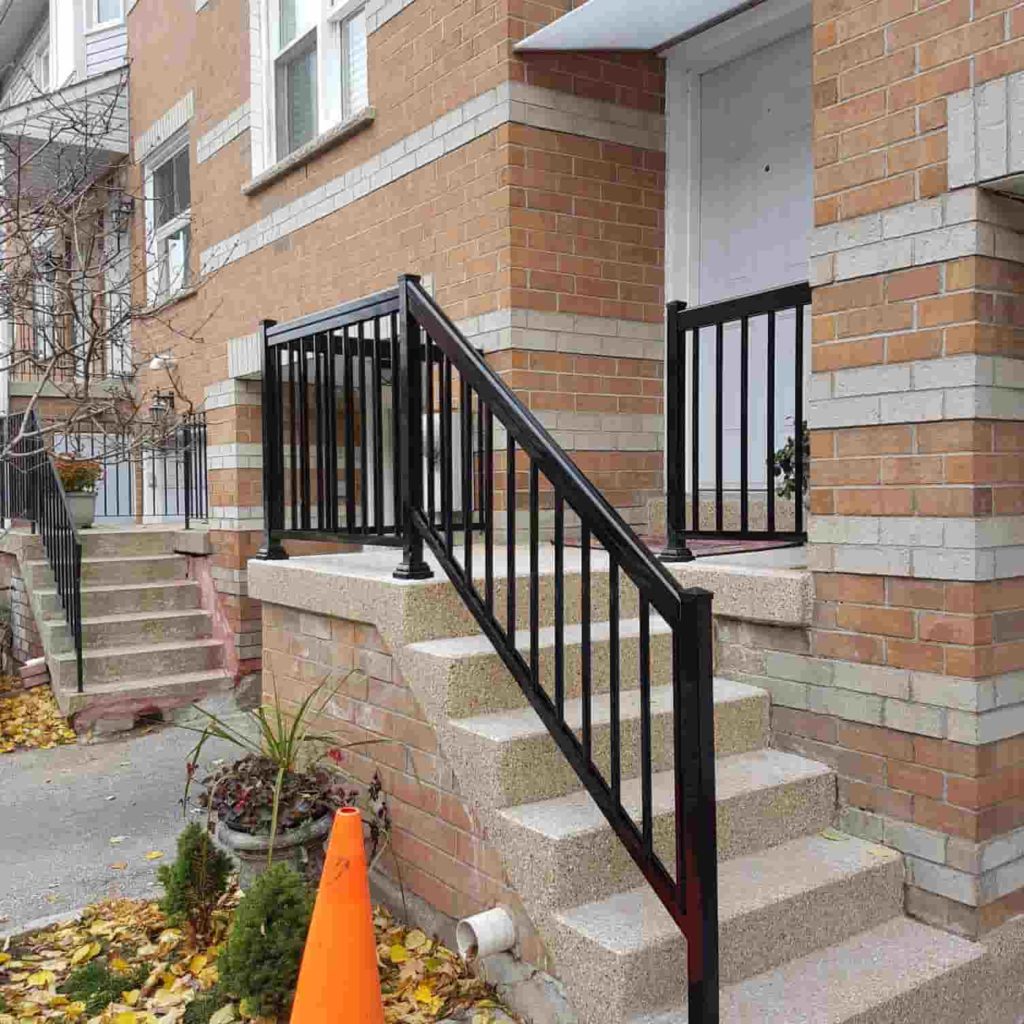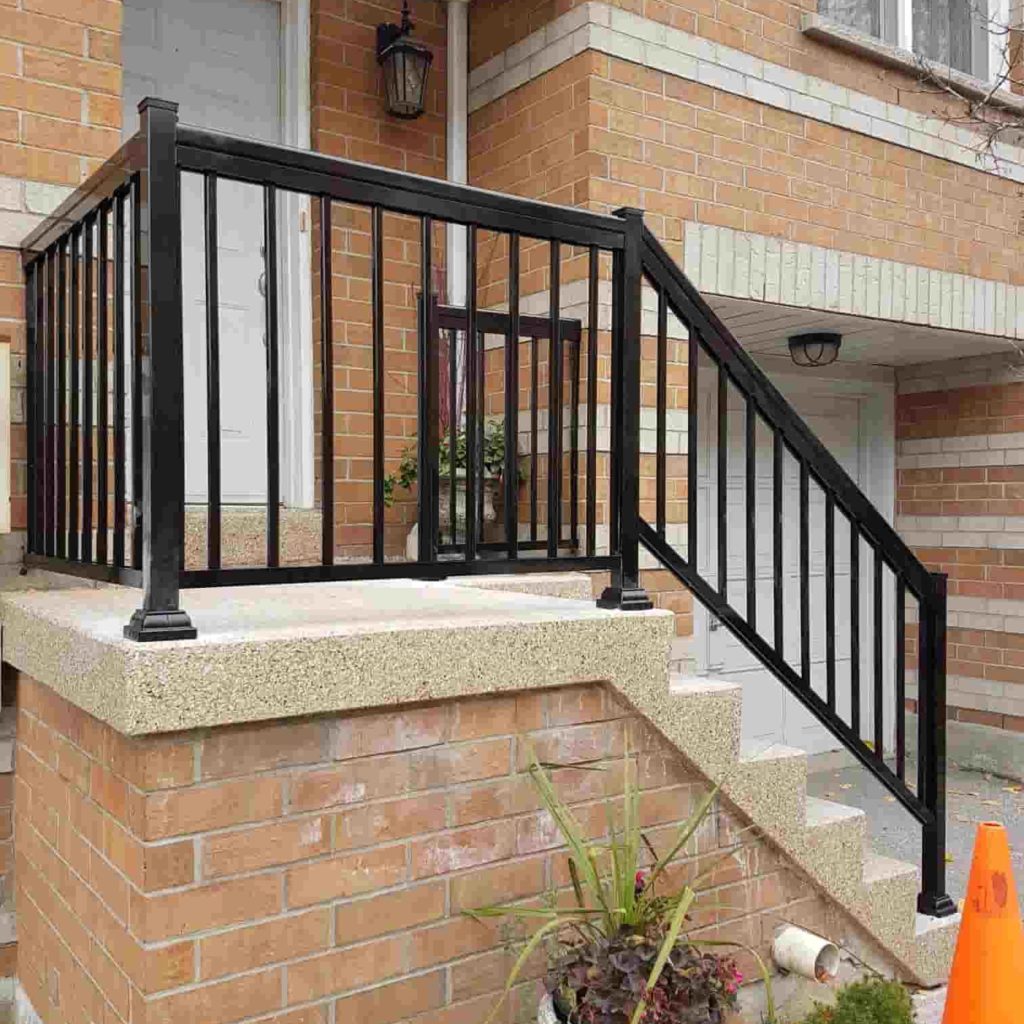 Are You Ready To Start?
Request a free estimate from our experts!
Ideas for You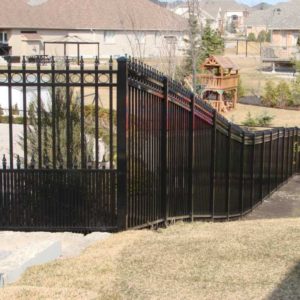 March 21, 2019
If you are living on a hillside or near the slopes, you may need to consider black aluminum decorative fencing installation. They can easily overcome the natural obstacles that come along the way like hills, slopes, and dips.
Service Area