Are Gates Required Around Swimming Pools?
Different requirements govern private and public pools. These requirements are bound to be followed at all times.
These requirements include the following:
       

For public swimming pools, pool decks should be around 4-feet wide

       

Materials used to build the deck should be non-abrasive and slip-resistant

       

The pool deck must be built around the pool, with a flush built atop the pool wall
Is it Illegal to Not Have a Pool Gate?
For those considering building a pool into their yard, above ground pool might be a good idea. Above ground, pools are more practical and easier to build compared to in-ground permanent pool structures. One of the advantages of building an above the ground pool is that it's easy to remove, should the house owner need to transfer residences or sell the property.
Also, with above ground pools, you can easily change the pool size, opt for a smaller, less costly one. It will also not require more maintenance compared to traditional pool sizes.
Then again, it doesn't mean that pool gates are not required for above-ground pools. If you have kids or pets, you also need to make sure it's safe for them to use the pool or be anywhere near the pool.
Most municipalities require owners to put up a pool fence. Because of this requirement, mesh pool fences because of excellent alternatives to traditional pool fences. Mesh pool fence, just like above ground pools, is temporary and can give the pool owners more flexibility should they need to move it around with the pool.
How High Can a Pool be Without a Gate?
The requirements for setting-up child-resistant pool barriers largely depend on when and where the pool is built and located.
In New South Wales, three varying Pool Safety Standards are applicable, largely based on the date the pool was built:
      

AS 1926-1986

: This standard applies to private swimming

pool gates

and fences made before August 30, 2008.

      

AS 1926.1 – 2007

: Part 1 includes the safety barriers requirement for pools built between September 1, 2008, to April 30, 2013.

      

AS1926.1 – 2012

: Part 1 includes the safety barriers requirement for pools built after May 1, 2013.
For swimming pools created before August 1, 1990, the pool's access from the house should be restricted all the time. Doors and windows are made part of the barrier; however, both should always be compliant.
For swimming pools constructed after August 1, 1990, but prior to July 1, 2010, the standards require that the swimming pool must be built with a fence surrounding it, separating the pool from the house. Exemptions to the rules are provided as follows:
       

Pools which are less than 230 square meters

       

The huge property which is around 2 hectares or bigger

       

Waterfront properties
Lastly, for swimming pools built starting July 1, 2010, it is required that it be surrounded by a fence or gate that separates it entirely from the house.
What Depth of Pool Requires a Fence?
The following rules apply when it comes to pools requiring fences in terms of depth:
       

If a spa or a Victorian residential swimming pool has a 30cm or more depth, it's mandatory that a safety barrier is built around it. The requirement extends to inflatable pools.

       

All spas and pools constructed after 2010 are required to have an isolation fence of a 4-sided barrier, totally inaccessible from the house or from any building near it.

       

The safety barriers should approximately be 1.2 meters high

       

The barrier gates should be self-latching and self-closing.

       

Spa gates and pool should not be propped open at all times.

       

Chairs, pool pumps, skies, pot plants, and other climbable objects should not be obstructing the barrier.
Pool Gate Installation Guide
Installing pool gates or fence in a pool deck is very similar to the installation of the same fence on crushed stone pavers. Drilling out and setting the plastic sleeves straight into the wood will not be enough to provide strong support.
Wood blocks must be placed underneath each hole drilled. After which, install the wood supports, drill out, and set the plastic sleeves as usual.
For those who are knowledgeable in pool gate installation, the whole task could be easy and smooth. Then again, remember that it's set for safety so it won't be logical to attempt setting it if you're not confident you can pull it off. At the end of the day, it would still be wise to hire experts and professionals to install your pool gate for you.
How Much Does it Cost to Hire Temporary Fencing?
The rates and prices for hiring temporary fencing can vary considerably depending on what company will be hired to do the job.
On average, it will cost approximately $500 for a mere 40 to 50 meters of temporary fence lasting for a week. You can get it for a lower price of around $900 if you'll be hiring it for 12 months.
On top of this, there are also hidden fees amounting to $70 for missing or damaged panels, $30 for lost, damaged, or missing feet weights, and approximately $40 for damaged or lost gate wheels.
Do You Need a Fence for a Portable Pool?
The short and quick answer to this question is yes. In the majority of territories and states, pools require fences when filled (or fillable) up to 30mm or more.
This just means that almost all portable pools are within the ambit of the legislation requiring the installation of pool fences. This further means that unfenced portable swimming pools can get you fined.
Are Pool Covers Safer Than Fences?
A safety pool cover is safer than safety pool fences. Pool covers stretch tight all over the pool, while also anchoring it to the pool deck. These are also fully non-removable by kids and can support up to 400 lbs. meaning, it can support the weight of a child and even large pets, too!
Safety covers are also traditionally utilized as winter covers and can likewise be used as summer covers, too.
Pool safety covers are only $1.25 for every square foot for rectangular stock covers or around $3.50 per square foot for custom-shaped swimming pools.
How Much Does Pool Fence Cost?
Normally, pool fence or gate installation costs within $2,500 to $10,000. The costing reflects the cost range of materials and the size of the project.
The installation cost a new pool fence is significantly determined by the special and peculiar features you want to add, the linear footage, and the fence materials.
Do I Need a Pool Fence For an Above Ground Pool?
Again, the short and quick answer to this question is yes. The exemption to the rule includes spa pools or pool walls that have no climbable objects within sight and are not less than 1200mm in height.
ZEDD in Etobicoke
Dec 2018
"We are extremely pleased with the Aluminum/Glass railing we purchased. Sales staff were very helpful and knowledgeable about the products and the installation was quick clean and very professional. Get job. Highly recommended."
Are You Ready To Start?
Request a free estimate from our experts!
About Product
No Rust
Aluminum will not rust like Iron
Corrosion resistant qualities
Aluminum has a much longer life span than other materials
Aircraft-grade, aluminum alloys that receive either an anodized or powder coated finish.
Maintenance
Free
Powder coated provides a superior long-lasting finish that will not have to be repainted
Aluminum railings will not splinter or rot like wood railings. Virtually maintenance free
Can be wiped clean of dirt and stains without the need for bleach, solvents, varnishes
Requiring less maintenance and reducing replacement costs in the future.
Great Price
Reasonably priced products
Financially
Technically
Environmentally sound.
Safety
Safety for your home and visitors
Provide a high level of safety while providing a unique
signature to the project's exterior.

Ads to
the Value
Clean, elegant, and structurally robust
By working closely with your design team, we can provide your project with a world-class, balcony railing system that won't hurt your budget.
Provide an innovative and distinct visual signature to buildings. Envy of your neighbors
Seamless
Integration
Integrate into construction projects seamlessly
An extremely clean installation that is free of exposed
base plates and unsightly concrete anchors
We can integrate matching, framed glass gates into the design.
Recycling
Aluminum and stainless steel are among the most recycled materials within the building industry. Aluminum and stainless steel is 100% recyclable with no loss in quality.
Our systems are prefabricated to the greatest extent possible, minimizing onsite waste and improving the overall environmental performance of our product
Gate Lock
Great for pools
1″ x 1″ Used as Intermediate Post
Product Gallery
Are You Ready To Start?
Request a free estimate from our experts!
Ideas for You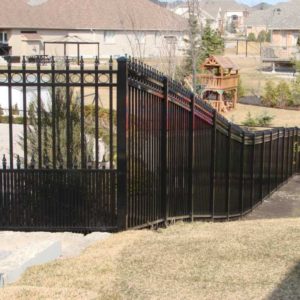 March 21, 2019
If you are living on a hillside or near the slopes, you may need to consider black aluminum decorative fencing installation. They can easily overcome the natural obstacles that come along the way like hills, slopes, and dips.
Service Area