Aluminum Top Rails is the Best Support
Aluminum fence gives that fine, elegant touch to your property. At North West Aluminum, we can install an aluminum fence top rail to offer the best support and stability while making the outdoor area look attractive and appealing.
Why Aluminum?
Aluminum is no doubt the best material to use for fences and top rails. Most property owners now prefer installing aluminum for its exceptional weather-resisting abilities, low-maintenance cost, its immense strength and security applications. With an aluminum fence, security is not a concern anymore. Specially designed aluminum fences with little space between fence pickets fulfill the top security needs.
You do not have to bother about scraping the corrosion off the aluminum fence top rail. Just like fences, you can choose the top rail and handrail built out of maintenance-free, rust-free aluminum for that timeless look.
Aluminum Fence Handrail
A fence handrail comes handy as it is designed to offer a continuous graspable surface. Numerous configurations provide an attractive and smooth transition between the fence and handrail. Whether you are looking to install a fence along walkways or near steps, a handrail can cut the risk of falling. It is essential when you have kids, elderly and physically challenged people moving around.
Handrails could appear as an afterthought to most that walk by them daily without noticing them. However, for property owners who are looking for an apt one, it can be a significant decision. From porches and decks to walkways and parks, there are a lot of reasons a handrail might be in line. If you are adding it to an existing fence or installing the handrail in a freestanding area, aluminum is the best choice for all your rail needs.
Wherever you require it, that's where they work!
Aluminum fence handrail is the ideal choice for hospitals, homes, schools or any high traffic region that would profit from the additional support without negotiating style.
Why Consider Us?
Whether you are planning for security purposes or to enhance beauty, an aluminum fence top rail is the way to go.
We can help you choose the right top rail or handrail that matches the color and style of your fence to provide a polished and seamless look. Besides, we ensure it complies with local code regulations and specifications. We provide a wide range of fence installation services at your desired location. Contact us now for a free estimate.
Anton in Scarborough
April 2018
"Mariya and Sofiya were extremely helpful in choosing the design for our fence and side gate. Their estimator came out and addressed installation issues and offered few options to resolve them. The end result is just what we wanted. We had a few quotes done and they were very competitive. I would definitely recommend them."
Are You Ready To Start?
Request a free estimate from our experts!
About Product
No Rust
Aluminum will not rust like Iron
Corrosion resistant qualities
Aluminum has a much longer life span than other materials
Aircraft-grade, aluminum alloys that receive either an anodized or powder coated finish.
Maintenance
Free
Powder coated provides a superior long-lasting finish that will not have to be repainted
Aluminum railings will not splinter or rot like wood railings. Virtually maintenance free
Can be wiped clean of dirt and stains without the need for bleach, solvents, varnishes
Requiring less maintenance and reducing replacement costs in the future.
Great Price
Reasonably priced products
Financially
Technically
Environmentally sound.
Safety
Safety for your home and visitors
Provide a high level of safety while providing a unique
signature to the project's exterior.

Ads to
the Value
Clean, elegant, and structurally robust
By working closely with your design team, we can provide your project with a world-class, balcony railing system that won't hurt your budget.
Provide an innovative and distinct visual signature to buildings. Envy of your neighbors
Seamless
Integration
Integrate into construction projects seamlessly
An extremely clean installation that is free of exposed
base plates and unsightly concrete anchors
We can integrate matching, framed glass gates into the design.
Recycling
Aluminum and stainless steel are among the most recycled materials within the building industry. Aluminum and stainless steel is 100% recyclable with no loss in quality.
Our systems are prefabricated to the greatest extent possible, minimizing onsite waste and improving the overall environmental performance of our product
Gate Lock
Great for pools
1″ x 1″ Used as Intermediate Post
Product Gallery
Are You Ready To Start?
Request a free estimate from our experts!
Ideas For You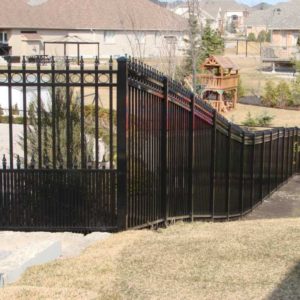 March 21, 2019
If you are living on a hillside or near the slopes, you may need to consider black aluminum decorative fencing installation. They can easily overcome the natural obstacles that come along the way like hills, slopes, and dips.
Service Area