Aluminum Columns to Accentuate Your Home
Thinking about adding aluminum column accents in your home? Need these elegant pillars for a load bearing support? Then call up North West Aluminum and we will provide the perfect solution for your needs.
Our architectural columns are easy to assemble, and unlike wooden columns that are prone to rot, aluminum is maintenance-free and lasts a long time, more than the average lifespan, in fact.
You can choose from our square and round designs. We have standard sizes for height and thickness. You can select from either plain or decorative, each one commanding a different price, of course. We have six color options that will complement or enhance any architectural design of a house or a business establishment.
We also offer wrap-around designs, half columns to be installed at the entrance or matching pilasters.
However, our expert technicians can also custom-build aluminum railings and columns for you.
If you happen to view our catalog of designs but can't find anything to your liking, you can describe your vision with our design team.
A Touch of Elegance But With a Modern Twist
Columns were invented to create more space. Instead of thick walls to hold the ceiling, these pillars were a staple in ancient civilizations although the Greeks elevated them from a mere functional tool into an art form.
We continue the tradition with our elegant columns. The columns of old civilizations are very heavy because they were made of marbles and stones. But aluminum is a very flexible material, which means we can really be creative with our designs.
Whether indoor or outdoor (aluminum verandah columns or aluminum porch columns), our designs will also enhance the appearance of your home, while also ensuring the structural integrity of your home with our load-bearing columns.
If you are worried about safety, don't be. Aluminum is less dense than metal, but it's also a very sturdy material. It's stronger than wood, in fact.
Affordable Aluminum Columns and Railings
North West is a leader in the fabrication and distribution of aluminum columns and railings for commercial and residential uses.
We pride ourselves on providing solutions. That's why if you are on a tight budget, call us and we will make sure to package an architectural solution for your requirements. Our prices, nevertheless, are very competitive although the standard cost of the aluminum material is driven by market forces.
The aluminum column used for your verandah or porch is coated with quality baked paint, which gives it superior resistance to different weather conditions. The searing heat of the sun is no match to this protective cover.
This is why you save a lot on maintenance if you choose aluminum as your base material.
Hire NW Aluminum for Your Column Needs
North West Aluminum is the premier leader in aluminum columns, railings, and handrails in the Ontario area. You can call us up at number 647-952-5023 so we can set a site visit to your home or place of business, as the case may be. We will give you a free estimate if you call today.
Gail in Richmond Hill
Jan 2019
"Northwest Aluminum installed guardrail on our back steps. They arrived to design and provide a quote within a day of our first contact. They worked with us to come up with a cost efficient design. They delivered and installed within a 3 week period. We are very happy with the service and product."
Are You Ready To Start?
Request a free estimate from our experts!
About Product
No Rust
Aluminum will not rust like Iron
Corrosion resistant qualities
Aluminum has a much longer life span than other materials
Aircraft-grade, aluminum alloys that receive either an anodized or powder coated finish.
Maintenance
Free
Powder coated provides a superior long-lasting finish that will not have to be repainted
Aluminum railings will not splinter or rot like wood railings. Virtually maintenance free
Can be wiped clean of dirt and stains without the need for bleach, solvents, varnishes
Requiring less maintenance and reducing replacement costs in the future.
Great Price
Reasonably priced products
Financially
Technically
Environmentally sound.
Safety
Safety for your home and visitors
Provide a high level of safety while providing a unique
signature to the project's exterior.

Ads to
the Value
Clean, elegant, and structurally robust
By working closely with your design team, we can provide your project with a world-class, balcony railing system that won't hurt your budget.
Provide an innovative and distinct visual signature to buildings. Envy of your neighbors
Seamless
Integration
Integrate into construction projects seamlessly
An extremely clean installation that is free of exposed
base plates and unsightly concrete anchors
We can integrate matching, framed glass gates into the design.
Recycling
Aluminum and stainless steel are among the most recycled materials within the building industry. Aluminum and stainless steel is 100% recyclable with no loss in quality.
Our systems are prefabricated to the greatest extent possible, minimizing onsite waste and improving the overall environmental performance of our product
Gate Lock
Great for pools
1″ x 1″ Used as Intermediate Post
Are You Ready To Start?
Request a free estimate from our experts!
Ideas For You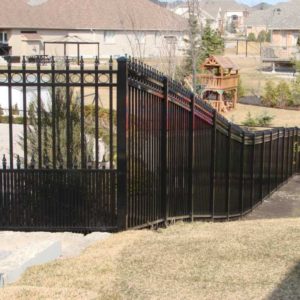 March 21, 2019
If you are living on a hillside or near the slopes, you may need to consider black aluminum decorative fencing installation. They can easily overcome the natural obstacles that come along the way like hills, slopes, and dips.
Service Area